Westchester Community College is the site for the 14th annual Operation Cookie Drop, organized by the Girl Scouts Heart of the Hudson.  Last year, local Girl Scout troops donated 90,000 boxes of Girl Scout Cookies to servicemen and servicewomen who are serving abroad, stateside and in military hospitals.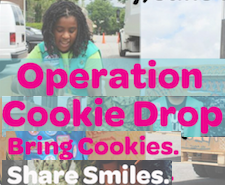 Operation Cookie Drop's Load Up Day will be Saturday, June 13, at Westchester Community College in Parking Lot #11.  Cookies will be dropped off from 8-11a with packing to continue until 1p. Trucks will be loaded by hundreds of Girl Scouts, adult volunteers, ROTC, local servicemen and service women and other officials. Westchester Community College is located at 75 Grasslands Road, Valhalla.
The girls will create personal notes and hand-drawn cards to be tucked into the cases of cookies, thanking the soldiers and sailors for their service and wishing them well. An official flag ceremony and program will take place at 10:30a. For more information visit GirlScoutsHH.org.