Here's the week at a glance
at the Nyack Library.
Monday
FREE Assistance with NYS Health Insurance Programs, 5p
Tuesday
Fiction Writers Workshop, Registration required, 11a
Nyack Toastmasters, 6:45p
Wednesday
Bam, Bam Babies!, 10:30a
Thursday
Preschool Block Play, 11a
Friday
Magic of Amore – Summer Reading Kick-Off Celebration, Registration required, 1p
Teen 2015 Summer Reading Program Kick-Off Party, Registration required, 3p
Jazz @ The Nyack Library presented by RCJBS:  The Music of Thelonious Monk, 8p
Sunday
Craftastic Sundays w/Ms. Siobhan, 2p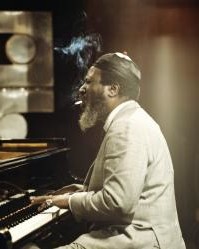 Thelonious Monk once called the Columbia University student radio station WKCR to complain about something he heard on the air. An expert, talking about the music Monk created, said the jazz-legend used the wrong notes when playing his unique style of music. Monk called the station with a message for the on-air guest. "The piano ain't got no wrong notes," said one of the first creators of modern jazz and a pioneer of bebop.
Talented from an early age, at 13 Monk won the weekly amateur competition at the Apollo Theater so many times the management banned him from re-entering the contest. Monk's music was highly regarded by his peers, but his unorthodox style was largely overlooked by jazz fans. He was posthumously awarded a Grammy Lifetime Achievement Award and a Pulitzer Prize Special Citation.  Thelonious Monk was also featured on a United States postage stamp and is only one of five jazz musicians to have been featured on the cover of Time magazine.
The Music of Thelonious Monk will be presented by The Rockland Jazz and Blues Society at the Nyack Library on June 26 at 7p.  It was arranged by Scott Reeves and will be performed by Scott Reeves on trombone and alto flagella horn with Duane Eubanks on trumpet, Roberta Piket on piano, Cameron Brown on bass, and Steve Johns on drums.  Tickets can be purchased in advance at RCJBS.org.
Summer Reading Program Kick-Off, Fri at 1p (ages 5-11), Fri at 3p (grades 6-12)
Is it possible to tell the future, move objects with your mind or read someone's thoughts? Find out on Friday at the library.
To kick-off the Summer Reading Program for children ages 5 to 11, the Nyack Library welcomes The Magic of Amore, who presents his interactive program of magic and illusions.
For teens in grades 6 to 12, Phenomenon (Mentalist), Magic of Amore will teach you about the power of the mind.  Registration is required.
---
Have a question or a fun fact you want to know? We're looking for suggestions for our weekly Did You Know fact. Write to info@NyackNewsAndViews with your suggestions.
Did You Know comes to you each Monday on NyackNewAndViews, sponsored by the Nyack Library.