by Jocelyn Jane Cox
Welcome to the Chronicles of Parenting, a new feature by local author, freelance writer, blogger and parent-of-toddler Jocelyn Jane Cox. Read on for advice you never knew you needed and the chuckles you know you really need, tailored to those who live in the Great State of Parenthood.

Sure, kids can get hurt at playgrounds, but parents are at risk as well. We're talking panic attacks, heart attacks and all manner of injuries to your aging appendages. If you do visit a playground with your child, it's important to take precaution.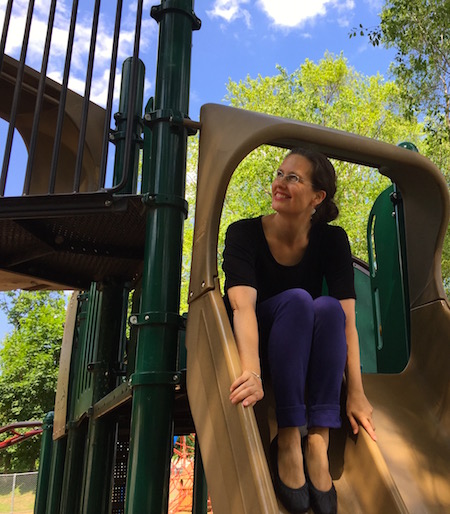 So here are some things to watch out for and some survival tips:
Tripping Over your Own Feet: Your child could be teetering on the edge of the jungle gym or climbing too high for his current coordination and agility. When you notice this happening from where you are chatting with another parent only about 10 feet away, you will bound toward him and quite possibly trip over your own feet. Though your child will be fine, there's a high chance you will break off your front teeth.
Suggestion: Wear a helmet with a faceguard, even if your child refuses to wear one. The added benefit is that since no other parents will want to talk to you while you're wearing this, their friendliness will no longer be a distraction.
Sun: In case you haven't noticed, sun rays have a way of scorching skin. The result is a splotchy, wrinkled, leathery face and "skin peels" you didn't pay for or want.
Suggestion: Since you will not have the energy or time to apply sunscreen to your own skin after a prolonged wrestling match to get it on your child, you will have to wear one of those gigantic sun hats that will provide enough shade for your body and several dozen other people. Make sure you get one big enough to fit over your helmet.
Ticks: It now seems like everyone you know has contracted Lyme disease even though they claim to never be outside.
Suggestion: Dress in a full unitard with a hood, like a speed skater. Add a face mask so that there is literally no skin exposed. Sure, you'll spend most of the summer suffering heat exhaustion, but at least you won't have to apply that darn sunscreen or wear a crazy hat.
Slide: Your child really really really wants you to take a turn on the slide.  Even though you suspect your hips are a little too wide, you desperately want to be the fun, easy-going, playful parent you always imagined you'd be. Unfortunately, chances are high you're going to get stuck mid-ride and gravity will suddenly ignore you.
Suggestion: Make sure you have your phone on your person at all times. You may need to call 911 so that an emergency crew can bring the jaws-of-life.
That squeaking swing: You've had four hours of sleep, you're mainlining coffee, and now the creak-creak-creak of that swing is boring a hole in your addled brain. What to do?
Suggestion: Either BYO earplugs or seal your ears shut tightly with your own fingers and sing leeleeleeleeelee at the top of your lungs like the crazy person you are.
Swings, in general: Of course, you have taught your child to pay attention and walk in a wide circle when swings are in use and they have gotten the hang of it. For some reason, you don't have enough brain cells left to take your own advice. You are therefore in danger of getting drop kicked into the mulch and possibly knocked unconscious.
Suggestion: Stay in the car and watch from afar. This is really the only place where you are safe.
In fact, maybe you should stay home: this might be the best place for you and your child. Maybe you could just read a book about playgrounds. Of course, there's always the possibility of acute eyestrain.
Jocelyn Jane Cox is a  freelance writer and author. Her 2012 humor book on life in the New York suburbs, The Homeowner's Guide to Greatness: How to handle natural disasters, design dilemmas and various infestations, is available on Amazon.com. Follow her on Twitter at @JocelynJaneCox.
The Chronicles of Parenting is sponsored by The Palisades Center, your one-stop-shop for fun. Come to the Palisades Center for Munchkin Mondays, childrens' concerts throughout the summer in the East Court. See the complete schedule of summer events at PalisadesCenter.com.