by Ben McCarthy
This week's recipe is for grilled eggplant and zucchini topped with a simple dressing and some crumbled feta cheese. The dish is great for summer barbecues and parties and is quick and easy to prep and cook. Some of my favorite vegetables to use are eggplant and zucchini (which is sometimes called summer squash at local markets). The smoky, grilled flavor of the eggplant and zucchini pairs perfectly with the dressing and salty crumbled feta cheese. You can serve this alongside grilled meat, on its own, or with a homemade focaccia. You can also use different vegetables such as onions, mushrooms or fennel if you are not a fan of eggplant or zucchini.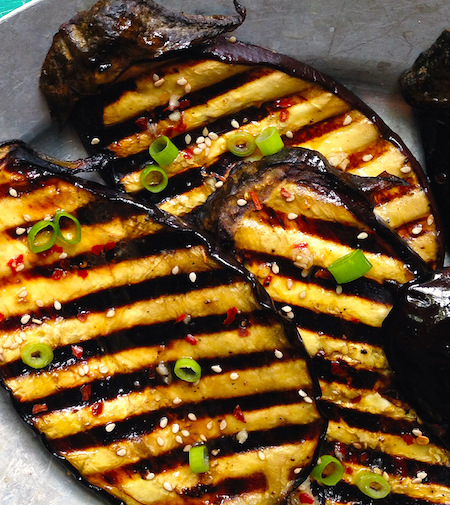 What you'll need:
2 large Eggplant, cut lengthwise into ½ cm slices
3 medium Zucchini, cut lengthwise into ½ cm slices
For the dressing:
4 tablespoons extra virgin olive oil, plus a little extra to brush vegetables
2 tablespoons lemon juice
1 tsp lemon zest
½ tsp dried chilli flakes
1 garlic clove, crushed
A few sprigs of dill
To Serve:
About 6 ounces (around 180g) good quality Feta cheese
Combine all dressing ingredients in a large bowl until well mixed. If possible use a bowl large enough to hold all your cooked vegetables.
Preheat griddle pan or barbecue until hot. Brush sliced vegetables with extra virgin olive oil and grill each side for two minutes or until cooked through.
Put the cooked vegetable slices straight into the dressing and toss while hot. Let sit for five minutes.
Arrange vegetables on platter, crumble feta cheese over them and drizzle on the remaining vinaigrette from the bowl. Garnish with extra dill.\
Ben McCarthy is a junior at Hunter College studying pre-med and creative writing. He is also the lead guitarist in the alternative rock band Regret the Hour. He loves to cook and try new food and grew up cooking with his mother.
Photo Credit: ReclaimingYesterday.com