by Alison Bender Kellner
When was the last time you had a sit-down meal with your family, including your senior loved ones? If the answer is, "not as often as I used to," you're not alone. In a recent survey of North Americans, nearly 50 percent of families living near senior relatives shared that they do not have enough sit-down dinners with senior loved ones, and that this figure has decreased since their childhood. Of those surveyed, 75 percent only sit down for a family meal with aging relatives for special occasions, events or holidays.
This decline may not be surprising to many. Often times, our busy schedules hinder the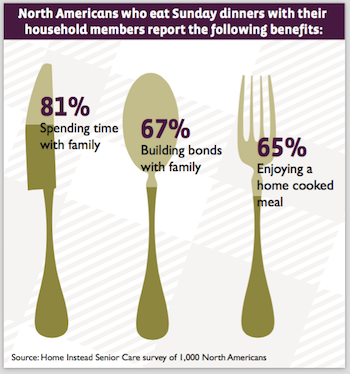 amount of time we spend with our families. Conflicting schedules, constant rescheduling and lack of effort all play a role in the diminishing amount of family interaction. While some of us may brush this off as a natural change in lifestyle, for senior loved ones, not sitting down for meals with family or friends may be causing serious harm.
Seniors tend to have a better mealtime experience – both nutritionally and emotionally – when they share a meal with a companion. For aging adults, these meals create a special, shared moment and an important personal connection. Seniors care more about whom they are able to share their meal experience with, rather than what is on their plate.
It's a positive impact I've seen firsthand. At Home Instead Senior Care, a companionship and homecare company serving Rockland County, we see an immediate change in many of our clients simply by having a companion to help prepare and share a meal. And often, it's the empty refrigerators or spoiled meals that are the first clues to many family members that their senior loved one many need additional care and company.
It's clear that quality meals are a critical component of healthy aging. That's why everyone at Home Instead Senior Care of Rockland County is on a mission to reverse the trend of declining sit-down meals with the Sunday Dinner Pledge program. For each person that commits to schedule a regular family meal at SundayDinnerPledge.com, the Home Instead Senior Care Foundation® will donate $1 to Meals on Wheels America (up to $20,000 total through July 31, 2015), helping another person have a quality meal at home.
To make this commitment even easier for families, we've partnered with Food Network celebrity chef, Melissa d'Arabian to create nutritious, easy, affordable recipes that you can quickly put together for your family. We've also developed other free tools and resources for a family meal that all generations can enjoy, such as tips on how to involve seniors in meal planning and preparation, pre- and post-dinner activities and conversation starters. All of these resources and more are available at SundayDinnerPledge.com.
If we all committed to having at least one sit-down meal with our families each week, the benefits will extend beyond just our senior loved ones to the entire family. It doesn't have to be Sundays – it can be Friday night or any day of the week. For free resources and more information on how you can bring back the family dinner and reconnect with your senior loved ones, visit SundayDinnerPledge.com or call Home Instead Senior Care at 845.353.6000.
Alison Bender Kellner is the owner of Home Instead Senior Care, a non-medical companionship and home care agency serving all areas of Rockland County.