Monday: A Bench By The Road
in Nyack
On Monday May 18, Nobel Laureate/Pulitzer Prize winning author Toni Morrison will be in Nyack to dedicate a "Bench By The Road" to  Cynthia Hesdra, an Underground Railroad conductor and former Nyack resident.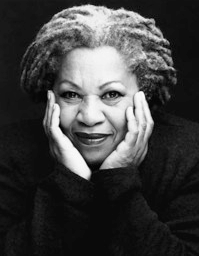 The Toni Morrison Society and the Nyack Commemoration Committee invite the public to join the celebration which includes remarks by Ms. Morrison and performances by Nyack's Sam Waymon, The Nyack High School Chamber Orchestra, the NHS Jazz Band and Chorale and the Nyack College Choir. For a complete schedule of events, go to VisitNyack.org.
If you can't attend but want to follow the action as it happens, follow the live tweets @VisitNyack and @NyackBench on Twitter.
There may be as many as 25,000 people visiting the village on Nyack Street Fair Sunday. The good news is that the first 5,000 of them won't need parking and won't be here for very long.
Cyclists competing in the Gran Fondo NY 100 mile ride from the GWB to Bear Mountain and back will pass through the village between 7:45 and 845a. The Nyack Street Fair, sponsored by ACADA, Nyack's Art, Craft & Antiques Dealers Association, kicks off at 10a.
If you want additional information about events, restaurants and things to do around town, VisitNyack.org. You can also sign up for our weekly Friday morning email blast of events, arts, activities, music and cool things to do, The Nyack Weekender.
Been Too Long
At The Fair?
Friends of the Nyack Library Spring Book Sale, 12p–4p, 59 S Broadway.
Garrett Ross performing Beethoven, Chopin, Prokofiev, Rachmaninoff and Scriabin at the Valley Cottage Library, 2-3:30p, 110 Route 303.
Nyack's street fairs are known far and wide for their combination of merchandise for all tastes and pocketbooks, arts, crafts, food, entertainment and special goings-on, all within the context of the wonderful Village of Nyack, with its own attractions of great shops and restaurants in a charming Victorian setting.
Up to 25,000 people are attracted to the Nyack street fairs, when Main Street and Broadway are closed to traffic, making it a pedestrian paradise. Stroll throughout the village's downtown and street fair booths. However not *everyone* is welcome: Dogs are not allowed at Nyack's Street Fairs. Sorry, Fido.
See also: