by Avalon Singer
Most people would agree that after 50 years a little makeover is in order, which is why the Food Network's American Diner Revival chose Nyack's Johnny Cakes restaurant for their "Bland to Glam" episode. The former Skylark Café, a friendly and familiar fixture on Main Street since the 1960's, is being featured on the Friday May 29 episode of American Diner Revival at 10:30p (Cablevision channel 29 and FiOS channel 164).
Fifty Johnny Cakes customers and Nyack community members worked with the American Diner Revival staff to remodel the restaurant during construction. New York Chef Amanda Freitag led the menu makeover and Designer Ty Pennington supervised the new look for Johnny Cakes over a three-day period in April when the episode was taped.
Manager David Blauvelt said he used a 20 minute video about Johnny Cakes to pitch his restaurant to the Food Network. American Diner Revival provided the paint, the booths and the countertops but the locals provided the labor. "Six different designers were involved in our makeover," says Blauvelt.  He adds that the Johnny Cakes episode is about more than a makeover — it's also about community. "Our customers and staff did all the work."
The restaurant at 84 Main St. in Nyack was called the Skylark Café for 44 years until a new ownership team changed it to Johnny Cakes five years ago. After the name change the diner had been repainted but most of the restaurant stayed the same.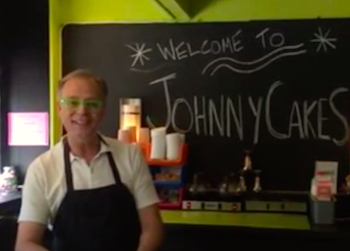 Blauvelt said that the space needed a renovation. With help from the American Diner Revival crew, Johnny Cakes now has new tables, chairs, stools and a revamped waitress station.
TV host and author Ty Pennington is a critically acclaimed designer, first winning national attention as the quirky and creative carpenter on the groundbreaking home improvement series Trading Spaces and later as host of Extreme Makeover: Home Edition. Culinary Institute of America graduate Amanda Freitag recently opened the new Empire Diner in NYC where she has been a highly successful chef for more than 20 years. Freitag works as a judge on the Food Network series Chopped and has also battled Bobby Flay on Iron Chef America. You can also see her on the Cooking Channel series Unique Eats.
As well as redesigning and remodeling the space, there are additions to the Johnny Cakes menu. Freitag created various entrees, mostly involving burgers, that have been incorporated in Johnny Cakes' new specials menu and her ideas have also sparked an entirely new dinner and late night menu.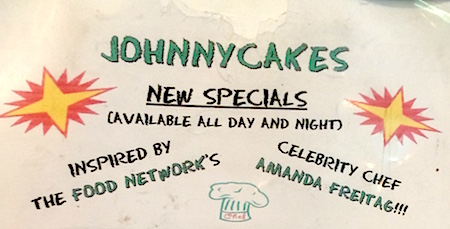 "We're doing a whole new dinner and late night menu that's going to revolve around some of the dishes she's come up with," Blauvelt said. "People love the new gourmet burgers that Amanda Freitag created for our menu."
Some of the new dishes include hamburger and milkshake pairings, various types of sliders, new salads and "everything" johnnycakes.
Blauvelt said that people have been coming in to see the changes to the restaurant's décor and menu, and that this has led to an increase in business.
"We're very happy with the space and we're very happy they came. The place needed to be spruced up and it's been very good for business," he said.
Avalon Singer is a sophomore journalism major and staff writer for The Ithacan at Ithaca College.