Please Pick Project needs a peck of people to pony-up precipitously! The local sustainable gardening initiative has six days left to hit their kickstarter goal of $1,500. With these funds, Nyackers will reap a harvest of free produce for the picking!
A recent UN report concluded that small-scale farming is the only sustainable way to feed the world. Please Pick Project, Nyack's newest grassroots movement, is committed to doing just that by making the village edible with front yard gardens along the sidewalk and a large communal garden on Franklin Street that will grow hundreds of pounds of food to share. All fruits and vegetables in these gardens may be picked by anyone in the community who needs better access to healthy, real food. This includes friends, neighbors, hungry passersby, kids, strangers in need, and soup kitchen chefs.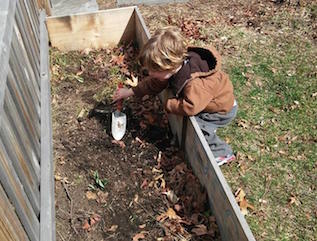 During the next two weeks, Please Pick Project is asking for the community's help to raise $1,500 to build 8 4'x6′ planters in the communal garden on Franklin St. You need to visit kickstarter to help the Please Pick Project create this public garden movement. To date, the project has raised $430. Organizers must raise another $1,070 by April 15 to receive funding.
Suzanne Barish, the project's founder, explains that students at Nyack High School are growing 3,000 seedlings for the project, and several student groups and individual volunteers have pledged to maintain the gardens with her throughout the growing season. Local craftsman, David L. Scharf & Co., has offered to build the planters for free, so Please Pick Project only needs to raise $1,500 to cover the cost of wood, building supplies, soil and compost.
This kickstarter fundraising campaign will run for two weeks; if it is successful, Nyack will be in the avant garde of the humanitarian agricultural revolution taking root in the US. The Nyack food forest is modeled after a the Food is Free Project.
Visit the Please Pick Project's Facebook page to learn more or go straight to kickstarter and help cultivate this munificent garden.