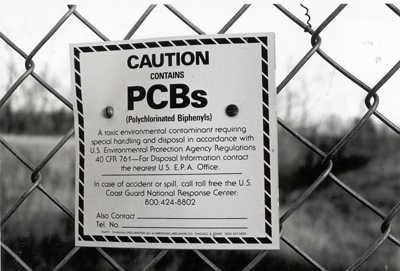 by Owen Voutsinas Klose
On Earth Day, you don't have to search any farther than the Hudson River to realize why it's important to be a good steward for our environment. Consider this: when was the last time you enjoyed fresh fish from the Hudson River? Unless you are over 60, the answer is probably never.
There are warnings posted along the Hudson River warning you to limit your intake of fish caught in the river. The rich assortment of bass, sturgeon and shad that fed native Americans, European Settlers and many generations of Americans are now considered dangerous to eat.
According to the New York State Department of Health, Hudson River fish have "thousands of times" more chemicals than fish in surrounding waterways. The signs posted along the river recommend that pregnant women and small children completely refrain from eating fish caught in the Hudson River.
Hudson River Fish Advisory For
Rockland, Westchester, Putnam
Fish
Chemicals of
Concern
Men Over 15 &
Women Over 50
Women Under 50 &
Children Under 15
Crab or lobster tomalley and cooking liquid
PCBs, Dioxin, Cadmium
DON'T EAT
DON'T EAT
Channel catfish, Gizzard shad, White catfish
PCBs
DON'T EAT
DON'T EAT
Blue crab meat
PCBs, Cadmium
Up to 4 meals/month
(six crabs per meal)
DON'T EAT
Atlantic needlefish, Bluefish,
Brown bullhead, Carp, Goldfish,
Largemouth bass, Rainbow smelt, Smallmouth bass,
Striped bass, Walleye, White perch
PCBs
Up to 1 meal/month
DON'T EAT
All other fish
PCBs
Up to 4 meals/month
DON'T EAT
Source: NYS Department of Health
Health.NY.gov says our history of dumping dangerous cancer-causing chemicals in our waterways has made eating fish caught in the Hudson a risky business.
The primary contaminants of concern in New York State fish are mercury and PCBs. Other contaminants such as cadmium, chlordane, DDT, dieldrin, dioxin and mirex are also concerns in fish from some of the State's waterbodies. These chemicals build up in your body over time. Health problems that may result from these contaminants range from small changes in health that are hard to detect to birth defects and cancer. Women who eat highly contaminated fish and become pregnant may have increased risk of having children who are slower to develop and learn. Chemicals may have a greater effect on developing organs in young children or in unborn babies. Some chemicals may be passed on in mother's milk. Women beyond their childbearing years and men face fewer health risks from contaminants than do children.
In 1947, General Electric Co. began to dump PCBs, or polychlorinated biphenyls, into the Hudson River in Fort Edward and Hudson Falls, NY. PCBs are compounds used in electrical equipment, flame retardant and other industrial uses.  PCBs are known carcinogens, and cause low birth weight, birth defects, cancer and genetic mutations even in small amounts.  By the time GE ceased dumping in 1977, over 1.3 million pounds of the chemical had been released into the river through drainage pipes.
In 1983, the EPA classified the 200-mile stretch of the Hudson River, from Hudson Falls to the Battery in New York City, as a Superfund site.
PCBs are insoluble in water, meaning they can embed in the soil of waterways.  Also, PCBs do not easily evaporate, and are highly un reactive, meaning that they can stay in environments for many years.  In fact, 10% of the PCBs released since 1922 are still in the environment.
However, PCBs are highly soluble in fats, meaning that they are especially dangerous to fish eaters.  When one fish eats another fish with PCBs in them, the PCBs can easily spread up the food chain in fish flesh and fat; and can spread easily to humans.
In 2009, after intense legal wrangling with the EPA, GE finally accepted responsibility for the pollution, and began to remove the chemicals through dredging.  This dredging is only expected to remove 10% of the PCBs, so the other 90% will still be in the environment.  GE has been fighting in court for decades to absolve themselves of liability for this issue, and a final survey assessing the impact of the chemicals has yet to be released.
This incident serves as an important reminder this earth day of how precious an ecosystem is.  One company's actions has changed the Hudson for generations. We must take into account the effects of what we do to our environment, and never let such a tragedy happen again.
See also:
Two Special Earth Day Programs on
April 22 at the Nyack Library
There will be a group reading and discussion of Wangari's Trees of Peace, an inspiring book for children in Grades 4 – 6, on how we can be stewards for the environment at 4:30p.
At 7p, Dr. Adam Sobel will present Storm Surge: Hurricane Sandy, Our Changing Climate, and Extreme Weather of the Past and Future, using the example of Hurricane Sandy to explain our planet's changing climate and what we need to do to protect ourselves and our cities for the future. Dr. Sobel is an atmospheric scientist and professor at Columbia University's Lamont-Doherty Earth Observatory and Fu Foundation School of Engineering and Applied Sciences.