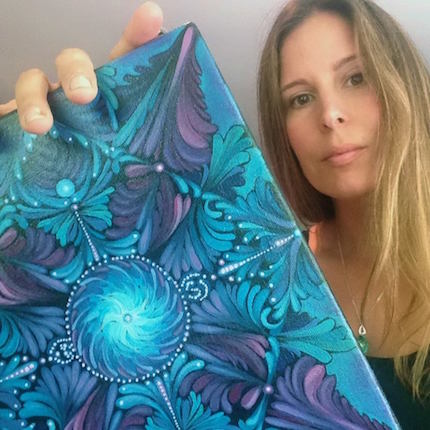 For over a century, our region has been home to extraordinary artists. Local Arts Index highlights the work of individuals who continue our community's rich creative legacy.

Meet Jamie Gaviola.
How Did You Become an Artist?
That question reminds me of another, was math discovered or invented? I've come to the conclusion it was discovered. Bit by bit. By many curious souls, drawing from the stream, often synchronistically.
That was how I discovered myself to be an artist.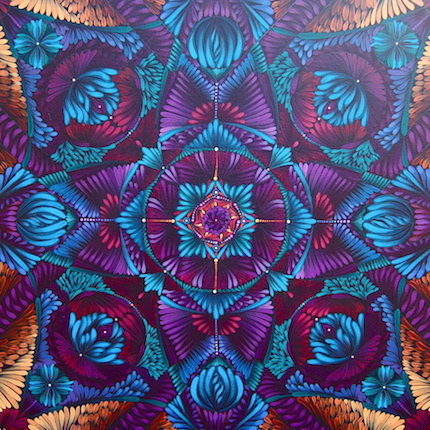 Along the path were hours strolling museums, weeks painting nudes, months nurturing dreams, and years studying and practicing. I work with children and can always spot the artists. They're few and far between but unmistakably kindred.
What Kind of Art Do You Make?
I paint intricate geometric Mandalas.
"Mandala is a Sanskrit term for a geometric pattern that represents the cosmos, a microcosm of the universe. It is the 'seed' of sacred geometry, a symbol of unity, representing the inner and outer spaces, whose purpose is to remove the subject-object
dichotomy." -Jeff Andrews
When I asked for "purpose" in my art, these mandalas came forth. I see no end to their emergence. They are created as moving meditations through a fusion of technique and flow. They have been called 'mirrors, portals, and tapestries of the unseen.' I share them because I hope that they ignite a remembrance of the inter-connectivity of all things.
What's Your Muse?
The natural world is so incredibly beautiful that we frequently pause in awe. The microscopic view of matter is equally fascinating. It is easy to marvel at the similarities across scales. Consider how the universe resembles an atom, and a river resembles the veins in my body.
I pull ideas from reading current philosophical, scientific, and technological thinkers as well as bodies of knowledge from Carl Jung to the Australian aboriginals.
Dreaming, Yoga, Nano Technology, marine biology, sacred architecture, multi- universe theory, and my peers.
What's Next?
I've begun sharing with and inspiring others through art workshops. I offer a Sacred Mandala Workshop as well as fine art workshops.
When I'm not painting on canvas, I paint faces (and bodies). My face and body art company, Jamie's faces takes art to the streets. I have catered to events at Yankee Stadium, Osh 'Kosh, Lord and Taylor, and private celebrations of all kinds.
Registration is still open for my latest workshop,"Open Up To Art: Painting a Floral Still life" on Sunday, May 3rd, 4-6 p at Maria Luisa Boutique, 75 South Broadway in Nyack. Awaken your inner artist and learn the skills and tools needed to make a painting you'll be proud to display or gift. Take in the lovely delicate scent and sight of fresh cut flowers with, "Fresh Spring Florals" still life painting on canvas. Learn to identify composition, form, & line. All levels welcome. Individual attention and refreshments, will be provided.
To learn more about Jamie visit jamiegaviolafineart.com. You can also follow Jamie on Facebook or on Instagram at JBART or Twitter at @jamigaviolaArt.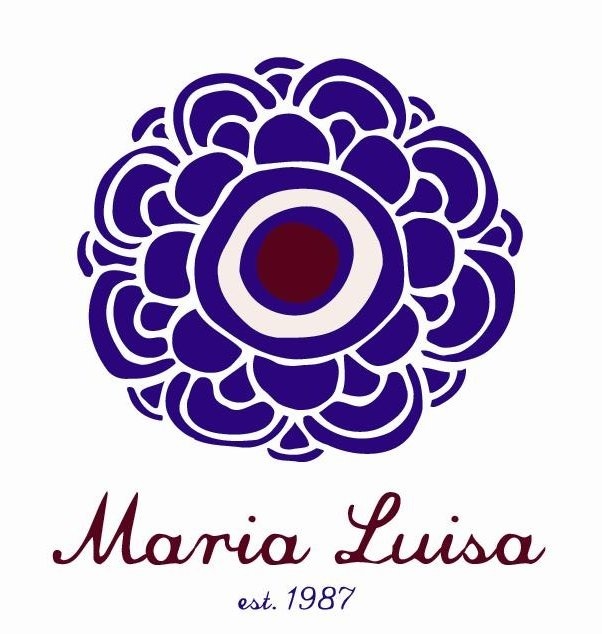 Local Arts Index is sponsored by Maria Luisa, 77 South Broadway and ML by Maria Luisa, 75 South Broadway, Nyack, NY