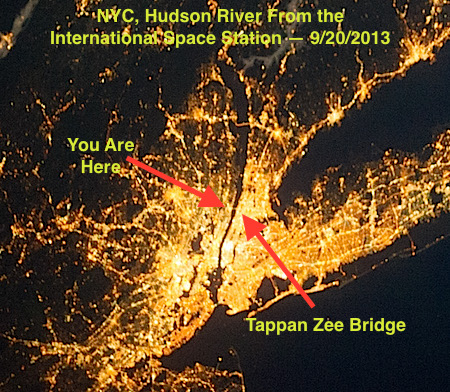 Now celebrated in more than 192 countries by more than a billion people every year, Earth Day is the world's biggest annual celebration not connected to any religion. The first Earth Day was hosted by U.S. Senator Gaylord Nelson as an environmental teach-in on April 22, 1970 with 2,000 colleges and universities and 10,000 elementary and high schools participating. In New York City, the crowd for the first Earth Day was estimated to be over one million people.
Special Earth Day Programs at the Nyack Library
One of the ways we become better stewards of our beautiful earth is to learn as much as we can about how to take care of her. On Wednesday, the Nyack Library presents two special programs.
In honor of Earth Day, there will be a group reading and discussion of Wangari's Trees of Peace, an inspiring book for children in Grades 4 – 6, on how we can be stewards for the environment every day here in Nyack.
Dr.  Adam Sobel will present Storm Surge: Hurricane Sandy, Our Changing Climate, and Extreme Weather of the Past and Future, using the example of Hurricane Sandy to explain our planet's changing climate and what we need to do to protect ourselves and our cities for the future. Dr. Sobel is an atmospheric scientist and professor at Columbia University's Lamont-Doherty Earth Observatory and Fu Foundation School of Engineering and Applied Sciences.
Here's the week at a glance
at the Nyack Library.
Monday
FREE Assistance with NYS Health Insurance Programs, 5p
Poets Circle, Registration required, 6:30p
SAT Math Clinic w/Trevor Hochman, Registration required, 7p
Tuesday
Cuentos, Canciones y Artesania, 1p
What Time is it?  It's Game Time!, 3p
Wednesday 
Wangari's Trees of Peace, special progarm for grades 4-6. Registration required, 4:30p
Storm Surge:  Hurricane Sandy. Our Changing Climate, and Extreme Weather., Registration required, 7p
Thursday
Yoga Monkeys, Registration required, 1:30p
Letters to the Dead:  Beyond Words, Registration required, 7p
Friday
Teen Choice Movie, 3:30p
Carnegie Concert Jazz Series-RCJBS presents Jazz Piano Legend George Cables with Essiet Essiet-bass & Victor Lewis-drums, 8p
Saturday
Write, Right? – Creative Writing Series for Kids, Registration required, 10:30a
Family Music Concert with Kurt Gallagher, Registration required, 11a
Carnegie Concert Series:  Rachmaninoff Complete Piano Works with Alexandre Moutouzkine, 7:30p
Letters to the Dead:  Beyond Words, Thur at 7p
Letters to the Dead: Beyond Words is a multi-part, multi-media art installation project.  The project is an opportunity for people throughout Rockland County to be engaged in a literary and artistic process, and for some, a spiritual one.  The act of creating words in solid form, then transforming them into another plane, is representative of the impermanence of life, yet also opens up the possibility of reincarnation to an existence beyond this one.
This program is a writing workshop held to guide participants in communicating their thoughts, emotions, dreams and words to loved ones who have passed on.  Writing can be an act of remembrance, a catharsis, or the seeking of advice.  Letters will be collected through the workshop.
After collecting the letters, the artist and workshop leader, Jennie Chien, will perform a ceremonial shredding.  The shreddings will be used to create sculptures of Spirit Houses. The house archetype is a symbol of home, where the heart and soul reside.  The ritual of embedding the shredded letters into the walls of a Spirit House is a means of releasing the words to another level.
In September there will be a public raku firing of clay houses, using shredded letters for reduction material.  In addition, at the end of the year there will be an Open Call for permanent art pieces on the same theme.  Juried selections will be included in an exhibit of the Spirit House sculptures at the Nyack Library in early 2016.
Carnegie Concert Jazz Series – Rockland County Jazz & Blues Society presents Jazz Piano Legend George Cables with Essiet Essiet on bass & Victor Lewis on Drums, Fri at 8p
New York City native George Cables has been a prominent figure on the international jazz scene since the 1960s.  A 1969 tour with tenor titan Sonny Rollins took Cables to the West Coast.  Awareness of his sensitive accompaniment skills increased and by the end of the 1970s, Cables was garnering a reputation as everyone's favorite sideman.  He has performed and recorded with some of the greatest jazz musicians of our time, including Joe Henderson, Dexter Gordon, Roy Haynes, Max Roach, Art Blakey, Sonny Rollins, Freddie Hubbard, Woody Shaw, Sarah Vaughn, Tony Williams, Bobby Hutcherson and Dizzy Gillespie.
George Cables has emerged as a major voice in modern jazz. He is currently performing and recording as a soloist, with trio, and larger ensembles, and as a clinician in college jazz programs.  He is noted for his fresh Interpretations of classic compositions and for his innovative style of writing.
Tickets: $25 Adult, $20 Members & Seniors, $15 Students.  Tickets and more info at RCJBS.org.
Carnegie Concert Series:  Rachmaninoff Complete Piano Works with Alexandre Moutouzkine, Sat at 7:30p
The young Rachamaninoff copes with his newfound celebrity after composing the legendary Prelude in C-sharp. He later regretted its popularity, which would haunt him for the rest of his life.
Program
THE EARLY YEARS
Morceau de fantaisie in D minor
Morceau de fantaisie in g minor
Nocturnes
Oriental sketch
Four Pieces
Prelude in D minor
Prelude in F major
Fragments in A-flat Major, Op.Posth
Morceaux de fantaisie, Op.3
Tickets In Advance: $20 Adult, $18 Seniors & Students, $15 member.  At the Door: $25 Adult, $22 Seniors & Students, $18 member. Tickets and more info at CarnegieConcerts.org.
---
Have a question or a fun fact you want to know? We're looking for suggestions for our weekly Did You Know fact. Write to info@NyackNewsAndViews with your suggestions.
Did You Know comes to you each Monday on NyackNewAndViews, sponsored by the Nyack Library.