Did You Know that 60 percent of the human body is water. About 50 percent of Nyack is under water.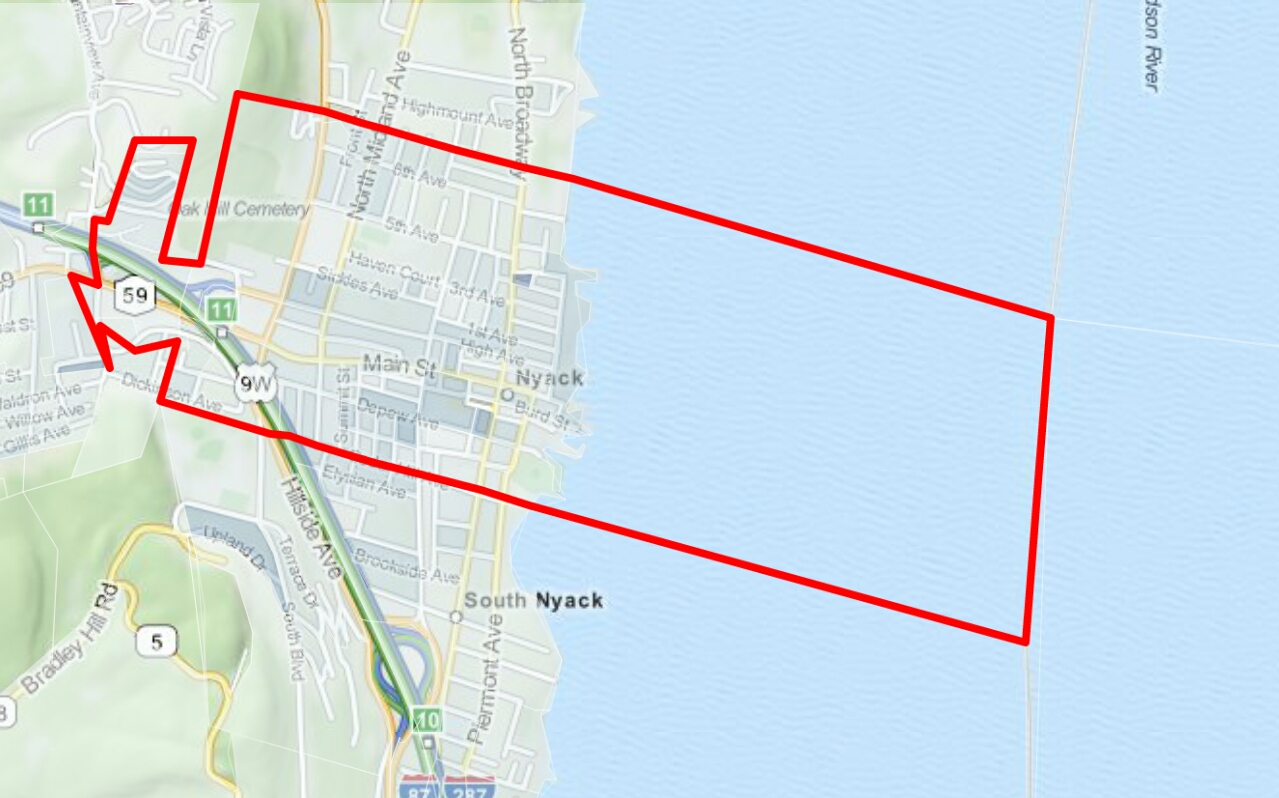 Nyack's 1.6 square miles are split pretty evenly between places you can walk and places you *might* swim (at least, theoretically).
The Hudson River accounts for most of the water, but Nyack Brook, the stream with an important history that runs from Central Nyack thorough downtown, is part of that total, too. For several blocks you can Nyack Brook running parallel to Main Street near the Tappan Zee Florist before it dives underground reappearing just west of Nyack Plaza south of DePew. Another culvert hides the creek beneath parts of Nyack Plaza before its final reappearance in the gorge near Memorial Park that lies south of Hudson Street and west of Broadway.  You can also see this creek out the back window of Strawberry Place restaurant on South Broadway.
With the start of the spring shower season (April Showers as the rhyme goes), hopefully there won't be  a recurrence of past flooding.
Here's the week at a glance
at the Nyack Library.
Monday 
FREE AARP Tax Aid, bring 2 forms of i.d. – one must be a photo i.d., 10a
Universal Class:  Basic Computers 101, Registration required, 2:30p
What Time is it?  It's Game Time!, 4p
FREE Assistance with NYS Health Insurance Programs, 5p
Tuesday
Fly, Butterfly!, Registration required, 2p
Wednesday 
Universal Class:  Improve Your Memory 101, Registration required, 10a
Chair Yoga with Helene Byron, Registration required, 1p
Armchair Walking Tour – Nyack in 55 Sketches, Registration required, 7p
Thursday
Preschool Block Play, 11a
Poetry Read-Out!, 5p
Friday
Teen Choice Movie, 3:30p
Saturday
Write, Right? – Creative Writing Series for Kids, Registration required, 10:30a
Carnegie Concert Series – Encores with Oxana Mikhailoff, 7:30p
Armchair Walking Tour:  The History of Nyack in 55 Sketches, Wed at 7p
Bill Batson, author of the weekly Nyack Sketch Log and artist-in-residence at the Nyack Farmer's Market, will present the history of Nyack in 55 sketches. His recently published book Nyack Sketch Log features his unique sketching style and essays about the history of the village his family has called home for over a century.
Carnegie Concert Series:  Encores with Oxana Mikhailoff, Sat at 7:30p
Pianist Oxana Mikahiloff plays a spell-binding program of fantastic fairy tales, telling us stories from "The Nutcracker," Shakespeare's "Midsummer Night's Dream," the Tsar's "Flight of the Bumble-bee," and Baba Yaga's Hut from Russian urban legend!  This imaginative collection of masterpieces is perfect encore to our Encore series.  Don't miss it!
FAIRY TALES
MUSSORGSKY Pictures At An Exhibition
TCHAIKOVSKY Dumka
MEDTNER Tale Op.51 No.3
MENDESLSSOHN/RACHMANINOFF
Scherzo from a Midsummer Night's Dream
MUSSORGSKY/RACHMANINOFF Hopak
RIMSKY-KORSAKOV/RACHMANINOFF
Flight of the bumblebee
TCHAIKOVSKY/PLETNEV
Nutcracker Concert Suite
Oxana Mikhailoff, piano
Tickets In Advance: $20 Adult, $18 Seniors & Students, $15 member.  At the Door: $25 Adult, $22 Seniors & Students, $18 member.  Tickets and more info at CarnegieConcerts.org.
---
Have a question or a fun fact you want to know? We're looking for suggestions for our weekly Did You Know fact. Write to info@NyackNewsAndViews with your suggestions.
Did You Know comes to you each Monday on NyackNewAndViews, sponsored by the Nyack Library.