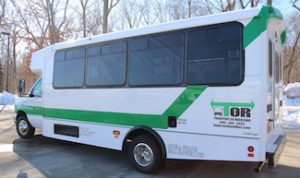 Rockland County and Brega Transportation are trying a "less is more" solution to moving people around the county. Beginning this week, four smaller, 25-foot buses are operating on the Transport of Rockland Loops #1, #2, #3 and TOR #97 routes.
The pilot program is part of the county's transportation department's Fleet Management Plan, which will evaluate the use of smaller vehicles on bus routes with fewer riders. Some of the anticipated benefits of the smaller vehicles include increased efficiency and flexibility, improved cost effectiveness due to lower cost of vehicles and fuel usage and improved customer satisfaction.
Brega has purchased the four 25-foot buses and will retain ownership of them. The company already uses these smaller vehicle types in other services that they provide within Rockland County. "Brega Transport's purchase of these four vehicles in advance of our next major bus purchase enables us to perform real world testing on this vehicle type without having to make any capital investment," said Rockland County Transit Administrator Michael D'Angelo. The pilot program is being implemented at no additional cost to Rockland County.
The buses will be white with green striping, will have the TOR logo, electronic LED destination signage, wheelchair lifts and fareboxes, just as the larger TOR buses do. However, the new buses are a different "cut away" body style and are smaller, 19-passenger vehicles.
"Rockland County's Department of Public Transportation is taking real steps toward providing more reliable, convenient and safe service to our customers," said Rockland County Executive Ed Day.