by Bill Batson
Each April, Earth Day gives us a chance to add environmental healing to our spring cleaning. To inspire you, here is the story of a local climate scientist, Robin Bell, who travels to Antarctica to monitor global sea levels; and a local merchant, Maria Luisa Whittingham, whose campaign to reduce waste has become a formal resolution adopted by the Rockland County Legislature. Once motivated, you will find a list of upcoming clean-up dates and sites from Keep Rockland Beautiful so that you can engage in a day when local activities are globally beneficial.
Antarctic Commute For Local Climate Scientist, Robin Bell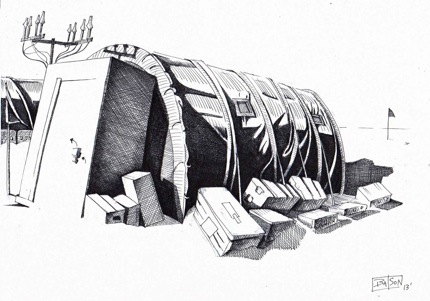 Like millions of Americans, West Nyack's Robin Bell dreads her commute. It's not the time it takes to cover the 26,000 mile round trip. And while she certainly misses her family during the weeks she spends at her remote workspace, that is not the worst part. It's the carbon footprint from the passenger and ski-equipped cargo planes that troubles her the most. Robin Bell is a climate scientist and air travel is the only practical way for her to get to her "office" at Field Camp Twin Otter in Antarctica.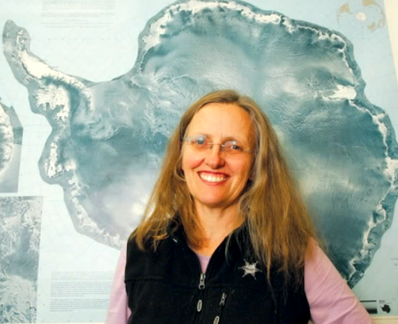 As the Senior Research Professor at the Lamont-Doherty Earth Observatory of Columbia University in Palisades, NY, Dr. Bell directs polar research in Antarctica and Greenland. Her interests range from ice sheet dynamics to sub-glacial ecosystems. Bell studies the mechanisms of ice sheet collapse and the environments beneath the Antarctic ice sheet, including the Gamburtsev Mountains. The Gamburtsev range, also known as the ghost mountains, are as large as the Alps with
a summit that never sees the sun, buried beneath 2,000 feet of snow and ice.
"I use physics to paint pictures of the world." Bell said in a 2011 interview. "I've been incredibly lucky in terms of being able to leverage physics to see through to these places that are pretty much hidden to the human eye."
Bell uses geophysics to observe "how the ice sheets work, how they grow, how they change and how
Great American Cleanup
Help your neighbors remove tons of litter from our streets, parks and waterways making Rockland cleaner, healthier and more beautiful. This annual spring clean-up is a huge boon to the environment, keeping the refuse that has collected on land during the winter months from being carried into our waterways. In 2014, over 3,500 volunteers throughout the county participated in the Great American Cleanup (GAC), an event that brings out over 4 million volunteers nationwide.
Contact Keep Rockland Beautiful to join a team.  You will be provided with free trash bags, a Great American Cleanup t-shirt and a reusable tote bag. They have litter grabbers available for sale or loan.
To register visit keeprocklandbeautiful.org
Great American Clean-Up Dates
Airmont – Sun., April 12 (Rain Date: Sun., April 26)
Blauvelt (Spanish) – Sun., April 26 (Rain Date: Sun., May 3)
Central Nyack (Spanish) – Sat., April 25 (Rain Date: Sun., April 26)
Chestnut Ridge – Sat., May 2 (rain or shine)
Congers – Sat., April 18 (rain or shine)
Haverstraw (Spanish) – Sun., April 19 (Rain Date: Sun., April 26)
Hillburn – Sat., April 11 (Rain Date: Sat., April 18)
Montebello – Sat., April 11 (Rain Date: Sun., April 12)
Nanuet – Sat., April 11 (Rain Date: Sun., April 12)
New City – Sat., April 25 (Rain Date: Sun., April 26)
Nyack – Sat., April 18 (Rain Date: Sun., April 19)
Pearl River – Sat., April 25 (Rain Date: Sun., April 26)
Pomona – Sun., April 26 (Rain Date: Sun., May 3)
Sloatsburg – Sat., April 25 (Rain Date: Sun., April 26)
Sparkill – Sat., May 2 (rain or shine) (the Sparkill Creek is central to the Cleanup).
Stony Point – Sat., April 18 (rain or shine)
Suffern – Sat., April 25 (rain or shine)
Tappan – Sat., May 2 (rain or shine)
Valley Cottage – Sat., April 25 (Rain Date: Sun., April 26)
West Haverstraw (Spanish)  – Sat., April 11 (Rain Date: Sat., April 18)
West Nyack – Sun., April 19 (Rain Date: April 26)
Earth Day Nyack
On April 18, Nyack Chamber of Commerce will sponsor an Earth Day Celebration and Music Festival in Veteran's Park on Main Street from noon – 5p.
Festivities include eco-friendly demonstrations, fresh organic food, face painting & henna, seed planting activities and live local music. An organic workshop by the Cornell Cooperative Extension starts at noon.
For more information visit nyackchamber.org
they are changing now." The model for how ice sheets behave was, until recently, as simple as
"putting an ice cube on a table and letting it melt.'" Bell and her multinational scientific partners in Antarctica are observing a much more dramatic process. "Parts of the ice sheet…are like giant conveyor belts that move a lot of ice into the ocean fast; Conveyor belts that are as wide as the state of Rhode Island.
As remote as her polar offices might be from our northern hemisphere Atlantic coastal setting, we are connected by the world's oceans to the changes in the ecology of Antarctica and Greenland. In Antarctica, Bell is recording "how ice gets taken from the middle of ice sheets down along these fast flowing ice streams down into the ocean where they turn into icebergs and are the mechanism that raises global sea levels."
"Since my grandmother was born, sea levels have risen one foot." Bell said. "In the worst case scenario, the oceans could rise another foot in the next three decades, which means adapting to what we had seen since my grandmother was born a little quicker."
Most of us are as likely to walk on the moon, as we are to step onto the ice at the South Pole. But what happens underneath Antarctica's frozen surface shapes our future. Which is why we are fortunate that one of our neighbors is willing to make the trip for us. Let's just hope that policy-makers have the wisdom to comprehend the implications of her findings, and the integrity to take corrective action.
Say "No to the Bag" is now the fashion in Rockland County thanks to Maria Luisa
Maria Luisa Whittingham, always a fashion trendsetter, has now altered the fabric of our local social contract. The Nyack merchant's "Say No to the Bag" campaign has now influenced public policy. On Tuesday, March 16, the Rockland County Legislature passed an official resolution adopting the language and spirit of the voluntary waste reduction initiative.
Whittingham, who operates the Maria Luisa Boutique in Nyack, began the "Say No to the Bag" campaign in 2014, collecting 500 signatures for her online petition. The campaign asks retailers to pledge to ask two simple questions at check out – "Did you bring your own bag today?" and if the answer is no, to ask "Will you need a bag today?" – both subtle encouragements to consumers to rethink their use of plastic bags – and consumers are asked to pledge to forgo a new bag and bring a bag when shopping. Bags, however, will be available to those who wish them.
Statistics indicate that each year, Americans use approximately
100,000,000,000 single use plastic bags, requiring 12,000,000 gallons of petroleum for their production. It is estimated that a single plastic bag will take up to 1,000 years to degrade.
The "Say No to the Bag" resolution was introduced by the Chairman of the Rockland County Legislature, Alden H. Wolfe. "The voluntary program to help reduce or eliminate single use plastic bags will have a significant positive effect on the environment of Rockland County, both in terms of protecting our waterways and wildlife and reducing the number of plastic bags that litter our community. Ms. Whittingham deserves much praise for her initiative and for dedicating her time and energy to this challenge," said Chairman Wolfee.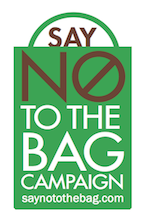 "Plastic bags have a destructive impact on the environment," observed Legislator Harriet Cornell, Chairwoman of the Legislature's Environmental Committee. "They are unsightly, clog waterways and storm drains and pose harm, even death by choking, to wildlife. "BYOB has a new meaning. Not only is this beneficial to the environment but from my own experience, it is also much more convenient for the shopper. Once you
start carrying your own bag, you won't go back!"
"The "Say No to the Bag" resolution by the Rockland County Legislature is a win for our environment," said Maria Whittingham. "The support from the legislature also gives us, as merchants, further support in spreading the growing awareness of taking personal responsibility as we all strive to reduce the prevalence of single-use plastic bags. This step will definitely bring the 'Say No to the Bag' resolution to a wider audience, increasing the numbers who will then indeed say no to the bag."
Portions of this Nyack Sketch Log featuring Robin Bell was originally published on April 2013.
Bill Batson is an activist, artist and writer who lives in Nyack, NY. "Nyack Sketch Log: Earth Day Edition" © 2015 Bill Batson. In Dec. 2014, Batson published "Nyack Sketch Log, An Artist and Writer Explores The History of A Hudson River Village." Copies of the book can be purchased at billbatsonarts.com.