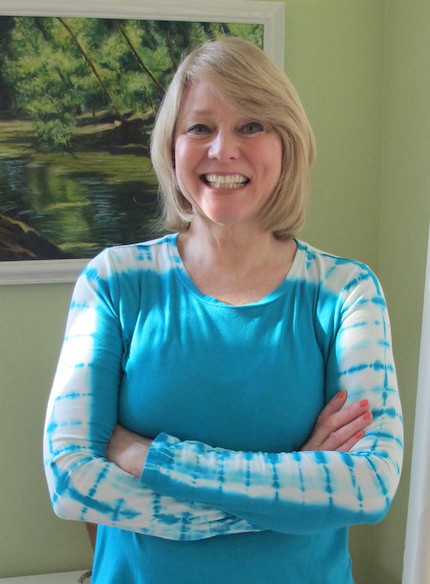 For over a century, our region has been home to extraordinary artists. Local Arts Index highlights the work of individuals who continue our community's rich creative legacy.
During the most recent Nyack Art Collective meeting, Lynne Cass, Donna Davies Timm and Lauren Rudolph were selected to lead the organization that has been producing monthly First Friday cultural festivals in the Village of Nyack for the last two years. On Friday, April 3, you can meet the entire collective at their group show entitled "Rebirth, Renewal & Beginnings" at Prohibition River, 82 Main St. The opening reception will be from 8-10p. There will also be over a dozen members of the Collective showing at venues throughout the village from 5-8p.
Meet newly elected Secretary, Lynne Cass.
How Did You Become an Artist?
It wasn't a conscious choice. I remember at five, racing to the easels in kindergarten, wanting to stay there all day, if they would only let me, just spreading colors on paper. It was heaven. I guess it's genetic. My mom used to paint and draw, so even before I was 5 she encouraged me to be creative. And, I remember my dad in his dark room in the basement developing photos. He loved photography! So I knew I wasn't destined for law school, or engineering.
What Kind of Art Do You Make?
I studied so much art in college, and art history, that I found it hard to find out where I fit in. I loved so many types of art, from Botticelli, to Miro and beyond. It was hard to interpret all that I loved from those artists into my voice. Back, then I did mostly abstracts. To make a living, I worked as an Art Director at Grey Advertising creating ads, and graphic art, which I enjoyed for quite a while.  So, I really just restarted my passion for my own art a couple of years ago.
The kind of art I do now? Nature. Landscapes, beaches, florals, in pastels, and oils. In the past I only worked in acrylics. Now, I'm interested in trying different types of mediums, and when I finish a piece, I can't wait to move on and try something new. I'm still finding my path, and I hope I never stop. The journey is fun!
What's Your Muse?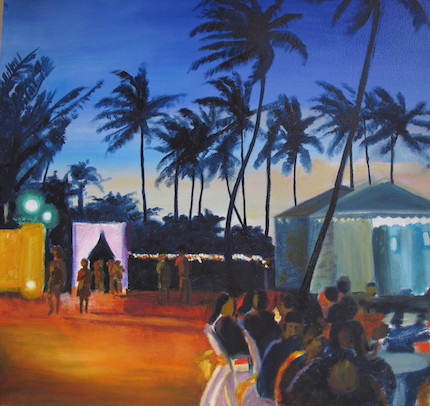 I'm always inspired by the work of other artists. And, being a member of the Nyack Art Collective, I'm surrounded by a lot of very talented ones, so I can't help but feel energized.  And I have never thought, "I don't know what I should I do next, I'm always collecting images that speak to me. I take hundreds of photos, with my digital camera, and I'm evolving my art to create something new from these images. This is the path I'm on now.
What's Next?
Developing my work to a place where it is uniquely me and the medium feels freeing. Art is expression, but for me it's also the intrigue of problem solving. Like a puzzle. Balance of color, space, shapes, lights and darks. Can I solve the puzzle? And when I do, will others enjoy the outcome. I hope so!
I have to also mention what's next for the Nyack Art Collective.  They are a great group, and I really look forward to us becoming a non-profit organization. This will help us fulfill our ideas for expansion. Which in turn, will make us more successful in our endeavors to give artists places to exhibit, to exchange ideas, learn from one another, and contribute to the great community of Nyack.
Also selected to lead the Nyack Art's Collective on March 18, 2015:
Donna Davies Timm, Coordinator
"From that point, I exhibited a piece at The Corner Frame Shop celebrating the Tappan Zee Bridge. That piece is important to my family; I painted it from a photograph taken the evening we crossed the bridge beginning our new life here."
Lauren Rudolph, Co-coordinator
"Gazing into the eyes of the subjects in my paintings is an intense and powerful experience for me. They have voices that come from within that need to be heard. Eyes fascinate me because their depth and energy is piercing.  Through the use of mixed media, I create art that expresses connection."
For more information visit nyackartcollective.com.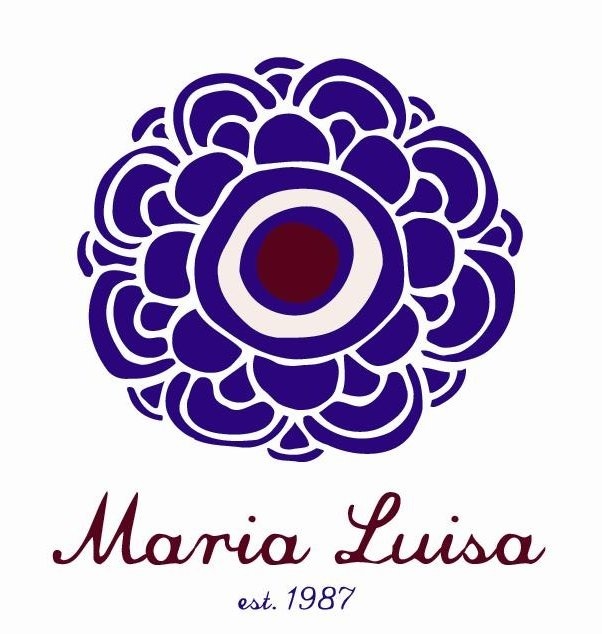 Local Arts Index is sponsored by Maria Luisa, 77 South Broadway and ML by Maria Luisa, 75 South Broadway, Nyack, NY