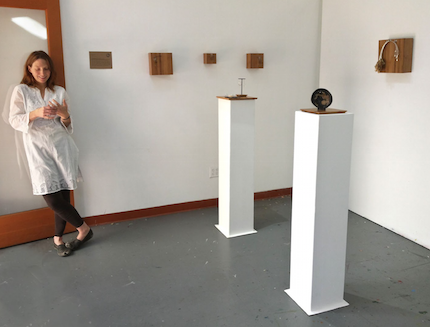 For over a century, our region has been home to extraordinary artists. Local Arts Index highlights the work of individuals who continue our community's rich creative legacy.
Meet Elena McCabe.
How Did You Become An Artist?
I think being an artist is the end result of how one embodies their narrative and values. Through the creation of physical forms, I articulate my ideas surrounding sustainability and social ideals. It has been an evolution of priorities which are reflected in my life and my artistic path. There have been defining moments: math class was really a study in hand rendering; product design could have been an avenue to create change in the world, but it was not quite my lexicon.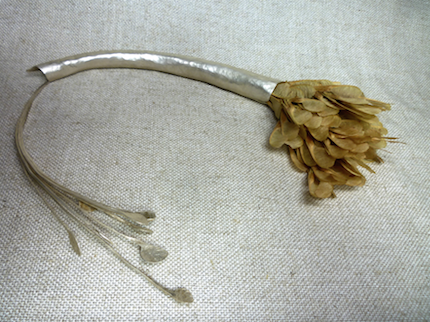 Mostly I have found that a pre-dawn studio practice truly creates a better day.
What Kind Of Art Do You Make?
I work collaboratively with natural objects and metal. Using silversmithing techniques, the metals and natural "gems" create adornment objects. Setting ephemeral items in a traditional context of cultural value, these miniature monoliths give form to a desired but sensitive environment in a dialogue between sustaining life and living comfortably.
My aesthetic aims to be quiet, delicate, and subtle because my overarching aim of shifting our cultural value is a rather confrontational and overwhelming subject.
What's Your Muse?
Walking through our environment I feel compelled give a voice to the beauty of the world we live in. The natural objects I collect are what really inspire me. I am open to working spontaneously to create art-trouvé but typically I ruminate over my gems for a season or two before I can truly understand what they need to share with me. "Sometimes acorn hats scream 'I am really cuff-links' and sometimes walnuts whisper 'pick me up,' they all say 'diamonds, gold – they got nothing on us!'"
What's Next?
I am currently preparing for my first solo exhibition.  85 south arts, located 85 South
Broadway in Nyack, will be celebrating my growing body of natural adornments by hosting an opening reception Saturday, April 11. 85 south arts functions as private
studio space for Nina-Jean Berlingeri and Ray Lagstein with open gallery hours on Thursdays 2-4p and Sundays 12-4p, visit the work as it will be on display through the end of may.
My next project is to create a small series of art object birdhouses. Woven from my own dreadlocks and bronze wire, I will connect economic equality with the environmental movement.
Art works:
helicopter tork, 2014, fabricated sterling maple seeds
conceited cedar, 2011, raised copper cedar twigs
meditation walnuts 2014, cast sterling, bronze, walnuts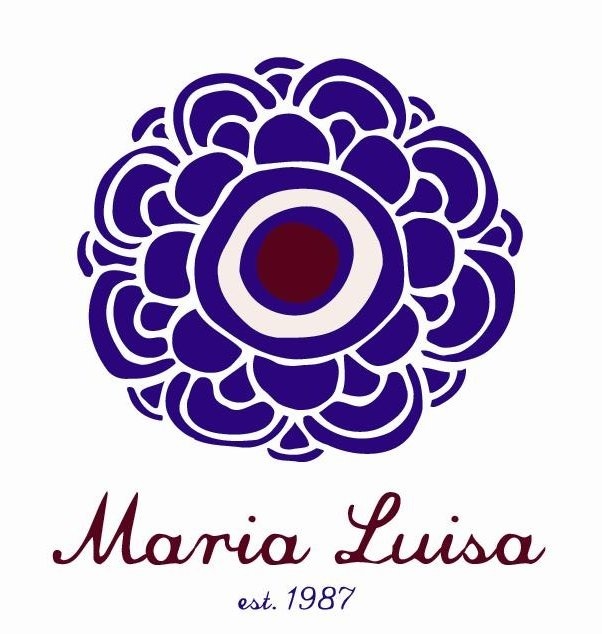 Local Arts Index is sponsored by Maria Luisa, 77 South Broadway and ML by Maria Luisa, 75 South Broadway, Nyack, NY