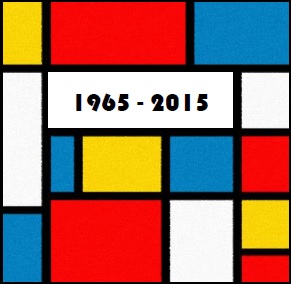 The Historical Society of Rockland County will celebrate the 50th anniversary of the signing of their charter at a Golden Anniversary Gala: The Sixties Soirée, on Sunday, March 29, 2015, 5-9p, at The View on the Hudson in Piermont. In keeping with their flower power theme, all those attending should wear their grooviest threads.
Bob Baird will receive the Living Landmark Award at the Gala. In 2012, Baird retired from the Journal News after almost forty years as managing editor, executive editor, and local columnist. Under his leadership, the paper was a finalist for a Pulitzer Prize
and twice won the Associated Press Managing Editors Association national public service award, something no other newspaper had done at the time. He is a member of the Rockland Sports Hall of Fame committee, helping to honor outstanding sports figures and teams and preserve Rockland's rich sports history, and was among a group of volunteers who organized Challenger Little League in Rockland County in 1993 to allow children with disabilities to enjoy baseball in a safe, supportive setting.
Catherine Quinn Oswald and Gerald Oswald will be give the Historical Society of Rockland County's Lifetime Service Award. As Rockland residents, Cathy and Gerry have made substantial contributions to both the Historical Society and the County for more than thirty-five years. Most of Cathy's career as an environmental engineer for the County of Rockland has centered on identifying water and land-related contamination and working to solve the problem. As a volunteer, Cathy has served on the HSRC's Board of Trustees and now chairs the committee
that organizes bus trips and walks that encourage interest in local history and the community. Gerry has enjoyed more than forty years of work in collegiate athletics. At St. Thomas Aquinas College in Sparkill, he introduced NCAA Division II status in 2000. Not only do his student athletes maintain high grades, but they excel in service to the community, winning the East Coast Conference medal for Community Service five years in a row.
The gala evening will feature cocktails and a silent auction, followed by a dinner, dessert and awards presentations. Tickets start at $100 per person and can be purchased by visiting rocklandhistory.com. All proceeds benefit the education and preservation mission of the Historical Society of Rockland County.
The Historical Society of Rockland County is a nonprofit educational institution and principal repository for original documents and artifacts relating to Rockland County. Its mission is to acquire, preserve, and exhibit objects, buildings, and sites that reflect the history of Rockland County and the Lower Hudson Valley and to research, document, promote, and publicize the county's rich historical heritage for the people of Rockland. The HSRC's headquarters at 20 Zukor Road, New City, NY, consist of a four-acre site featuring the 7,200 square foot History Center; the historic Jacob Blauvelt House; and the post-and-beam Historic Barn and Carriage House.
The HSRC is open to the public five days a week (Wednesday-Friday, 10 am–5 pm; Saturday–Sunday, 12–4 pm) during exhibitions, events, and programs. Library research and tours of the Jacob Blauvelt House are available by appointment by contacting (845) 634-9629. For additional information about HSRC, visit their website at RocklandHistory.org.