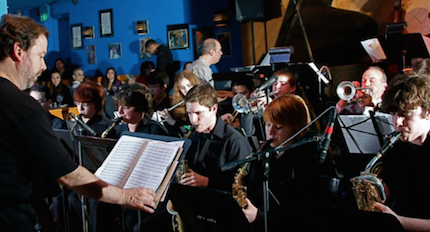 For the next two weekends, world-class jazz artists and educators will share their knowledge and passion with talented young adults who want to know how it's done. Rockland County Jazz & Blues Society is offering two educational workshops at Nyack Library and Rockland Conservatory of Music. The workshops feature world-renowned trumpeters Scott Wendholt and Duane Eubanks, the Rockland Youth Jazz Ensemble under the direction of Peter Furlan and the Scott Wendholt Quartet. Both workshops are free to the public and open to all interested music students.
Listen and learn
Workshop/Concert #1:
Sunday, March 8, 2015
Workshop: 1:00-1:45
Concert: 2:00-3:00
The Nyack Library Community Room
59 South Broadway, Nyack, NY
The Scott Wendholt Quartet
featuring
Scott Wendholt-trumpet, Adam Kolker-sax,
Ugonna Okegwo -bass, Victor Lewis -drums
Workshop/Concert #2
Sunday, March 15, 2015
Workshop: 2:00-2:45
Concert: 3:00-4:00
The Rockland Conservatory of Music
45 South Main Street, Pearl River, NY
The Rockland Youth Jazz Ensemble
Directed by Peter Furlan
featuring Special Guest
Duane Eubanks – Trumpet
Workshop/Concert #1:
Sunday, March 8
Participants will focus on techniques of improvising in a small group setting, and will also examine the questions: What makes a tune good for jazz improvisation? and What happens if there's no instrument (piano or guitar) playing the chords? Scott's quartet is a "chordless" group (no piano or guitar).
Trumpeter Scott Wendholt has recorded and/or worked with artists including Vincent Herring, Kenny Garrett, Cyrus Chestnut, Christian McBride, Don Braden and Bruce Barth. To his credit, Scott has been recorded on more than ninety CD's. Much in demand on the big band scene as well, his list of credits include: The Vanguard Jazz Orchestra (formerly Thad Jones/Mel Lewis), Manhattan Jazz Orchestra, The Carnegie Hall Jazz Band (led by Jon Faddis), John Fedchock NY Big Band, Gotham Jazz Orchestra (Mike Holober), Toshiko Akiyoshi Big Band and the Bob Mintzer Big Band.
Mr. Wendholt continues to be in demand on the playing scene as well as in the educational arena. Scott is currently on the faculty at the Manhattan School of Music as well as the Jamey Aebersold summer jazz camps. He is also in demand as a player/clinician in many colleges and various other learning institutions around the world.
Workshop #2:
Sunday, March 15
Participants will focus on techniques of improvising and playing in a large ensemble setting, and will also examine the questions: What are the challenges for a musician playing written parts and/or improvising in a large ensemble?
Philadelphia native and trumpeter, Duane Eubanks has performed everywhere from the Hollywood Bowl to Birdland to the Kennedy Center, in addition to touring throughout Europe and Japan.  He is a member of Dave Holland's two-time Grammy Award winning big band and the late Mulgrew Miller's band, Wingspan. Duane has worked with many other jazz greats including Antonio Hart, Louis Hayes, Elvin Jones, Tom Harrell, Randy Brecker, Mulgrew Miller, John Hicks, Orrin Evans, and Curtis Fuller, to name a few. Working in various genres of music is something Duane takes pride in.  This has given him the opportunity to record and/or tour with The Temptations, Alicia Keys, Talib Kweli, Mos Def, Wu Tang Clan, among others.
The Rockland Youth Jazz Ensemble provides a chance for serious young musicians to collaborate with their peers from other schools, plus learn from local professionals involved in the jazz world. This student ensemble has been formed to fill an important and necessary niche in the local jazz education community to help promote our truly great American art form. The Rockland Youth Jazz Ensemble flourishes in this spirit of cooperation, with musicians sharing their knowledge and love of jazz.
Visit the Rockland Jazz Blues Society for more information. This event is made possible, in part, with funds from the Community Arts Grants program of the Arts Council of Rockland and the Decentralization Program of the New York State Council on the Arts.