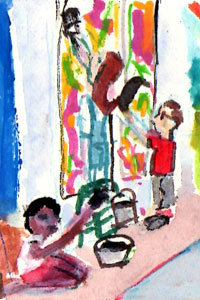 by Ashley Tedino
Calling all campers! With Spring just days away, it's time for parents to start planning for the end of the school year. What better time to start thinking about summer camp for your kids then now. Here's the inside scoop on camps that offer diverse activities from Arts to Rock Climbing with special programs in music and nature, too.
Rockland Center for the Arts (ROCA) Summer Arts Day Camp
Join ROCA at their Open House and Annual Student Exhibit on Sunday April 26 from 2-5p where parents and children can tour ROCA, meet camp counselors, and ask questions about camp activities that are offered for the summer. The official camp start date is June 30- August 21 where children ages 5-12 have the choice of attending three or four days per week with four, six, or eight week sessions. The Rockland Center for the Arts is located at 27 S. Greenbush Rd in West Nyack.
Billy Roues' Blues Rock Workshop – Rockland County Day School
Baby boomer parents will remember Alice Cooper's "School's Out For Summer" anthem. Now their kids can aged 10-18 play the part and learn the solos to rock out at Rockland Country Day School. Students will learn to play as a band, solo behind a singer, and accompany each other in a jam. Six months of study in guitar, bass, drums, keyboards, or vocals are encouraged to register. Billy Roues' Rock Workshop starts the week of June 15. Each session lasts five days from 10a-3p. On Fridays at 2p, there will be a concert for friends and family to attend. The cost for one week is $425 or $380 if you register by May 31. Rockland County Day School is located at 34 Kings Highway in Congers.
Summer Earth Art Program – Marydell Faith and Life Center
Children ages 7-12 and young teens ages 12-15 have the opportunity to get in touch with nature right in Nyack's backyard exploring streams, building forts, playing games and creating art.
The children's program (ages 7-12) runs June 29-July 23 from 9:30a-4p. The cost for the children's program is $480/week which includes materials and healthy snacks.
The Young Teens (ages 12-15) program runs for only for the week of July 27-July 31 from 9:30a-4p. The week will offer art, science, skill building, and contributions to local communities. The cost for the young teen program is $650 which includes materials and healthy snacks.
The Summer Earth Art Program is located at the Marydell Faith and Life Center at 640 N. Midland Ave in Nyack.
The Indoor Rock Club Camp

If your child likes climbing then the Indoor Rock Club Camp is the perfect place for them this summer. Camp starts June 29 where students ages 5-14 can spend one week or all summer (9 weeks) in the air conditioned facility. No experience is necessary while children learn to team build, foster creativity, concentration, problem solving, and self esteem. Session 1 runs from 9a-12:15p and Session 2 runs from 12:45p-4p. The cost for one week is $350 and after your first week, you get 10% off each additional week. Partial weeks are also available. The Rock Club is located at 130 Rhodes St in New Rochelle.
Nature Place Day Camp
Children aged 4-16 have found a non-competitive summer home away from home at the Nature Place Day Camp for more than 30 years. "Rather than having a nature center at The Nature Place, nature is the center, and becomes the focus and thread that weaves throughout our varied activities." Located on the campus of the Green Meadow Waldorf School in Chestnut Ridge on 200 acres of farmland, gardens, trails, woods, fields, streams, ponds, and swamps, the program includes archery, camping, climbing, cooking drama, gardening, hiking, music, swimming and storytelling. Sessions run from June 29 through August 7.
School of Rock- Orangeburg
Children ages 9 and up are welcome to enroll in a five day rock and roll themed boot camp starting in July. The themes include Killer Queen (July 13-17), British Invasion (The Beatles, The Rolling Stones, The Who; July 20-24), Metal Camp (July 27-31), AC/DC vs. Guns N Roses (August 3-7), KISS Army (August 10-14), and Guitar Hero (Van Halen, Jimmy Hendrix, Eric Clapton; August 17-21). During the week, campers get to learn about music, select and arrange songs, rehearse, and work as a team learning to play with other camp rockers. At the end of each week, a set of music will be performed in front of friends and family. Each camp day goes from 9:30a-3p and costs $350 per week. The Orangeburg School of Rock is located in the Blauvelt Mini Mall at 135 East Erie St in Blauvelt.
New Band and Choir Summer Camp – Ramapo College
High school instrumentalists and singers entering grades 9-12 can join the New Band and Choir Summer Camp at Ramapo College. Students will be able to perform in ensembles in Concert Band or Chorale, study musicianship, and choose from music performance electives. The summer camp runs from July 13-24. Students will have two rehearsals each day in either band or chorale. A performance will be open to families and friends showcasing the student's talents.
An information session is scheduled for Tuesday, April 21 from 5:30p-6:30p. This session will be held in BC- 142 at the Berrie Center for Performing and Visual Arts on the Ramapo College campus. Ramapo College of New Jersey is located at 505 Ramapo Valley Rd, Mahwah, NJ 07430.
Illustration Credit: RocklandArtCenter.org