by Foster Bass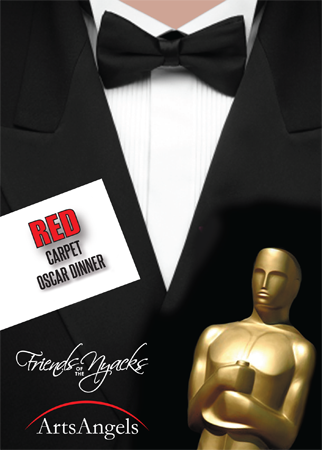 Here's your chance to walk a Red Carpet as part of a dazzling night of Oscar entertainment while giving a boost to the local arts community. Nyack's Harbor Hill takes its cue from Hollywood on Sun Feb 22 from 6p-11p. The evening of entertainment is a co-production of Friends of the Nyacks and ArtsAngels.
Guests will walk a short red carpet past paparazzi into the first floor cocktail party during the Oscar pre-show from 6-8pm. Local businesses are donating silent auction prizes and goody bags. The sit-down dinner will begin on the upper floors promptly at 8pm. The televised Oscar pre-show and show will be visible from all floors on Harbor Hill's big screen.
The dress code is Creative Black Tie. The creative attire may include the costume of a favorite movie character and a prize will be awarded at the event to the attendee with the best costume. While costumes are not required, fabulousness is expected.
Harbor Hill is located at 91 Main Street, Nyack, NY. Tickets are $85 each and can be purchased in advance online at Friends Of The Nyacks.
Oscar Night, with its intersection of drama, visual arts, music, is the perfect representation of the three committees of ArtsAngels: DramaWorks, ArtsWorks, and MusicWorks, all of which aim to promote arts education and programming for students in Nyack Public Schools. ArtsAngels is staffed largely by parent volunteers and is striving to engage a larger audience to support the talent of our Nyack students and share in the benefits of a community that values and promotes the arts. Friends of the Nyacks has spent the past forty years bettering life in the area villages, and its mission statement includes the endeavor "to unleash the creative talents of the people who have chosen to live in these communities." The collaboration of these two groups means that anyone who loves the arts or the Nyack villages, or who hopes to instill those values in children, will find sympathetic spirits at this event.
Profits raised at the Red Carpet Oscar Night event will be shared by ArtsAngels and Friends of the Nyacks. Guests may feel gratified to know that their ticket price will help pay for college scholarships, theater productions, band and orchestra trips, instruments, art supplies, and the summer concert series in Nyack's Memorial park, Mostly Music.