Abraham Lincoln was an accomplished wrestler as a young man. He was defeated only once in approximately 300 matches and is enshrined in the National Wrestling Hall of Fame. Abraham Lincoln signed legislation creating the Secret Service hours before his assassination on April 14, 1865.
It wouldn't have saved him since the original mission of the Secret Service was to combat widespread currency counterfeiting. The Secret Service did come to Lincoln's protection, but only after death. A gang of Chicago counterfeiters attempted to snatch Lincoln's body to hold the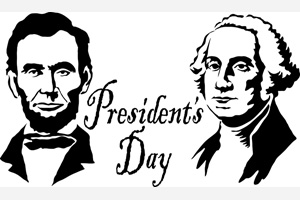 corpse for ransom and the release of the gang's best counterfeiter from prison. The Secret Service infiltrated the gang and disrupted the operation.
Long before his assassination, the Booth family had a connection the the First Family when John Wilkes Booth's brother saved the life of Abraham Lincoln's son. Robert Todd Lincoln stood on a train platform in Jersey City, New Jersey and a throng of passengers pressed him backwards and he fell into the space between the platform and a moving train. Edwin Booth, a famous actor, pulled him to safety by his coat collar.
Did you know that the Father of Our Country is also the man who brought the mule to America? George Washington bread donkeys from the King of Spain and the Marquis de Lafayette with his own horses. He had 57 mules at the time of his death.
More fun first president facts:
George Washington is the only president to win a unanimous vote of the electoral college.
His second inaugural address — a speech with only 135 words — was the shortest ever delivered.
The nation's capital, one state, 31 counties, and 17 cities are named in Washington's honor. Not to mention one prominent bridge over the Hudson River into NYC.
With total assets valued at $500 million in today's money, George Washington was the richest president in history.
Here's the week at a glance
at the Nyack Library.
Monday 
Library closed
Tuesday
Tuesdays at Two Film Series:  Betty & Coretta
Wednesday 
Teen Craft Wednesday, 4p
Genealogy Program – Navigating the Ancestry.com Website, Registration required, 7p
Thursday
Introduction to the Internet, Registration required, 1:30p
Little Shanti Yoga, Registration required, 1:30p
Defensive Driving Course – Insurance and Point Reduction Session 2, Registration required, 5:45p
Family Book Discussion Series, Registration required, 6:30p
Group Read:  The New Jim Crow by Michele Alexander, 7p
Friday
Teen Choice Movie, 3:30p
Saturday
Carnegie Concert Series – Bach Complete Keyboard Works, 7:30p
Sunday
VCS Co-sponsored Social Justice Film Series:   Brothers of the Black List, 2:30p
Tuesdays at Two Film Series: Betty & Coretta
Betty & Coretta (2013) explores the stories of Coretta Scott King, wife of Martin Luther King Jr., and Dr. Betty Shabazz, wife of Malcolm X.  When their husbands were assassinated, these two women inherited the mantle of the Civil Rights movement and were both forced to find a way, as single mothers, to raise and support their children.  Through their struggles and triumphs, King and Shabazz forged a deep friendship and a stronger commitment to improving the lives of African Americans, ultimately becoming role models for millions of women nationwide.
Carnegie Concert Series: Bach Complete Keyboard Works, Sat at 7:30p
Pianist Mei-Ting Sun embarks on a two year project encompassing Bach's complete keyboard works in a series of 15 recitals – a feat which has not been repeated since Claudio Arrau first performed the cycle in 1935-36 in Berlin.
As we approach the 330th year of Bach's birth, his music continues to fascinate us in all of its marvelous intricacies. Appropriately, the inaugural concert of the series begins with the Well-Tempered Clavier: a compendium of Bach's great mastery of counterpoint in writing fugues.  Its contents have for centuries been an endless source of inspiration: from Beethoven, who proclaimed him the "Immortal God of Harmony" while playing all 48 of his Prelude & Fugues, to Robert Schumann, who recommended playing Bach every day as an antidote to all of one's problems.
Tickets and more info at CarnegieConcerts.org.
---
Have a question or a fun fact you want to know? We're looking for suggestions for our weekly Did You Know fact. Write to info@NyackNewsAndViews with your suggestions.
Did You Know comes to you each Monday on NyackNewAndViews, sponsored by the Nyack Library.