Here's your Fri-Sun rundown of what to do and where to do it.
Friday
The Swingaroos, a 6-piece underground-style swing band, perform at Prohibition River. 10p-1a, 82 Main St in Nyack.
The Knaves of Children Shakespeare Theatre proudly present The Taming of the Shrew. Fri and Sat, 7p at Palisades Presby Church, 117 Washington Spring Rd, Palisades.
Saturday
Visit the "Annual Members' Exhibition". Exhibit runs through Feb 8. Edward Hopper House, 82 N Broadway.
Toys Of The Past: Our Childhood Memories. The dolls & dollhouses, stuffed animals, puppets, children's books, games, toy soldiers, model cars, trucks, planes and trains enjoyed by children prior to 1955.  Saturdays through February from 1-4p, The Historical Society of the Nyacks, 50 Piermont Avenue.
Hudson Valley's Tastemaker Ned Kelly curates "Pretty Paper," including paper in many forms—such as holiday cards by the beloved Rockland artist Robert Burghardt, charming antique paper dolls, and more. Also: The Joys of Toys: a lighthearted look back at the 1960s and 1970s, including Barbie dolls from 1965 to today.  Sat-Sun 12n-4p through Jan 11. Historical Society of Rockland County, 20 Zukor Rd, New City.
White Ash Tree Remembrance: Ceremony to honor the historic tree and info session about the tree-planting initiative by the Sparkill Watershed Alliance. Celebratory words and music. 2p at the Corner of Williams St and Valentine St, Sparkill.
Part one of five concerts dedicated to the Life & Times of Chopin. Artist Director of Carnegie Concerts, Yashar Yaslowitz, performs. Purchase advanced tickets at CarnegieConcerts.org. 7:30p at the Carnegie Room, Nyack Library, 59 S. Broadway.
Sunday

Walk to the Beat presents a Square and Country Line Dance with Pat Cannon. 12-2p at American Legion Hall, 85 S. Piermont Avenue.
How are those New Year's resolutions holding up? The 2nd Annual FitFest can reinvigorate your commitment to health. Take part in group exercise classes like FitCrawl, Yoga, Expresso Bike, Piloxing, and more! Features blood pressure, body fat, and BMI assessments, plus ask-the-trainer sessions and giveaways. Open to the public but registration for classes required. 9a-1p. JCC Rockland, 450 West Nyack Rd, West Nyack.
An afternoon concert of Beethoven, Liszt and Chopin. Pianist Eric Siepkes performs. 2p at New City Library, 220 N. Main St., New City.
Grammy-nominated 3D Ritmo de Vida combines danceable Latin rhythms with world-music melodies. 2p at Haverstraw King's Daughters Library, 10 W. Ramapo Rd., Garnerville, NY.
Next Week
Tuesday
The Book And Pub Club: Astronaut Mark Watney became one of the first men to walk on the surface of Mars. Now, he's sure he'll be the first man to die there.
The Nyack and Valley Cottage Libraries have joined forces with a book club geared toward 21 to 30-somethings! Each month this group will meet in a different local bar and discuss a book over drinks. (21+ only). From 7-8p on Tues, the Book and Pub Club meets at the Brickhouse Food and Drink, 20 S. Broadway, Nyack to discuss The Martian by Andy Weir.
Wednesday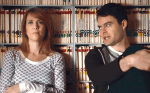 Two SNL alums star in a movie filmed and set in Nyack when Rivertown Film presents The Skeleton Twins, "a tale of suicidal twins who share an eerie emotional synchronicity toggles deftly between comedy and drama." 8p at Nyack Center, 58 Depew Ave.
The Nyack Weekender
is sponsored by
The Arts Council
of Rockland