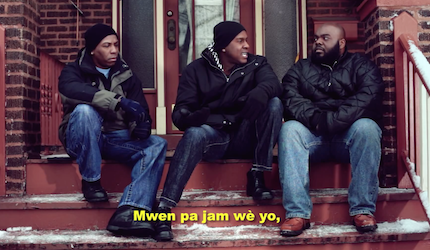 On January 12, 2010, a 7.0 magnitude earthquake devastated Haiti, killing over 300,000 people and injuring approximately the same number. It is estimated that 250,000 residences and 30,000 commercial buildings collapsed or were severely damaged by the quake.  Drawn back to Haiti by the 2010 earthquake, the filmmakers Tirf Alexius, Remoh Romeo and Hugh Grady reveal the tragedy from an intimate and personal perspective in their film, Lakay (Home). The film will be shown on Friday, Jan. 16 at Rockland Community College's Performing Arts Thearter.
Lakay chronicles a country that is still struggling to regain normalcy. While rebuilding has happened, many of the structures are as substandard as the ones that stood before the earthquake, leaving people as vulnerable as ever. Even in the face of tragedy, the filmmakers find moments of inspiration and laughter, striking a balance between suffering and joy among the survivors. Lakay was an official selection for the 2014 Harlem International Film Festival.
A portion of the proceeds from the screening will go to Christians United for Haiti's orphanage projects. $25 admission, $15 with student ID. You are invited to attend a reception at 6:30p prior to the 7:30 screening. This screening is sponsored by Rivertown Film, Rivertown Magazine, and Haiti Infos. Rockland Community College-Performing Arts Theater is located at 145 College Road in  Suffern.
Tickets are available at www.lakayrockland.eventbrite.com or www.lakaydoc.com. For more information, call 845 379-0810 or email contactcuh@gmail.com