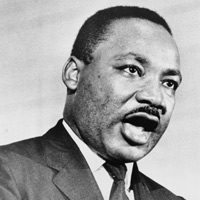 Did you know the NFL moved the location of the 1993 Super Bowl to Pasadena, California because voters in Arizona rejected the Martin Luther King Jr. holiday in a 1990 vote?  The holiday was later approved in a referendum in 1992.  Martin Luther King Jr. Day was signed into law by President Ronald Reagan in 1983 and first observed as a federal holiday on the third Monday of January in 1986 to commemorate King's birthday on January 15th.  South Carolina became the last state to observe the holiday when it was signed into law in 2000.  In 1994, Congress designated the holiday as a National Day of Service.
In New York, it is a federal and state holiday.  The Nyack Library will be closed and government and state offices, the stock and bond markets, banks, post offices, and public schools will also be closed.  TappanZee Express and Transport of Rockland (TOR) buses will run on a regular weekday schedule.  MetroNorth trains will run on a Saturday schedule with additional AM and PM trains.
Here's the week at a glance
at the Nyack Library.
Monday
Library closed
Tuesday
Canciones y Artesania, 1p
Tuesdays at Two Film: How Stella Got Her Groove Back
Wednesday 
Microsoft Word Basics Workshop, a six-week facilitated Universal Class workshop. Registration is required for all weeks. Visit NyackLibrary.org for more info or email Dane Paciarello, 10a
Writing: A Personal Narrative Memoir, Registration required, 2p
Thursday
Healthy Body, Healthy Mind: Cardiovascular Fitness and Your Brain As You Get Older, Registration required, 2p
Group Read – The New Jim Crow by Michelle Alexander, Registration required, 7p
Friday
Teen Choice Movie, 3:30p
Saturday
Carnegie Concert Series: The Piano Poet, 7:30p
Writing: A Personal Narrative Memoir, Wed at 2p
Every person has a story to tell! You do not have to be a famous person or an author to write a memoir. Will your children or grandchildren really know who you are? It can be a wonderful legacy to leave to children, grandchildren or other family members. Louis Alexander author of "Echoes From a Small Country Town" will show you how to write your own memoir.
Healthy Body, Healthy Mind: Cardiovascular Fitness and your Brain as You Get Older, Thu at 2p
Aging is associated with seemingly inevitable declines in cognitive function, brain function, and brain structure. Dr. Stan Colcombe's research has shown that certain interventions, especially cardiovascular exercise, can reduce or even reverse some of these decline. Dr. Colcombe will discuss research finding from his own lab, and those of others, regarding approaches to offset neurocognitive decline in aging.
Carnegie Concert Series: Chopin, The Piano Poet, Sat at 7:30p
Chopin establishes himself as the pre-eminent pianist and teacher of young aristocrats in Paris. With his reputation increasing as one of the greatest composers in Europe, he would compose the works that would canonize him as the "Poet of the Piano."
Artistic Director Yashar Yaslowitz performs Part 2 of a five concert series dedicated to the Life & Times of Frederic Chopin, featuring his most essential piano music: The Complete Mazurkas, Nocturnes, Ballades, Scherzos, & Other Works.
Program:  Four Mazurkas, Op.24; Two Nocturnes, Op.27; Scherzo No.2, Op.31; Four Mazurkas, Op.30; Two Nocturnes, Op.32; Ballade No.2, Op.38
Tickets In Advance: $20 Adult, $18 Seniors & Students, $15 member.  At the Door: $25 Adult, $22 Seniors & Students, $18 member. Tickets and more info at CarnegieConcerts.org.
Have a question or a fun fact you want to know? We're looking for suggestions for our weekly Did You Know fact. Write to info@NyackNewsAndViews with your suggestions.
Did You Know comes to you each Monday on NyackNewAndViews, sponsored by the Nyack Library.