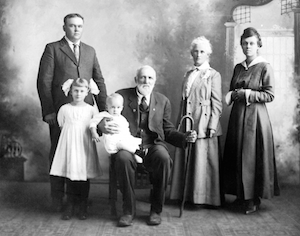 Did you know…you can research your family's history at the Nyack Library?

Use the Ancestry Library Edition, the most comprehensive online source of information for conducting genealogical and local history research available, only available in the library.
Here's the week at a glance
at the Nyack Library.
Monday
Trustees Voting, 10a – 7:30p
Shakespeare Discussion Group,
4 – 5:30p
FREE Assistance with
NYS Health Insurance Programs, 5p
Library Board of Trustee Meeting, 7:30p
Tuesday
Fiction Writer's Workshop, 11a
Canciones y Artesania, 1p
Tuesdays at Two Film: South Pacific
Nyack Toastmasters, 6:45p
Book and Pub Club (21 and over), Meet at Brickhouse Food and Drink, 20 South Broadway, 7p
Wednesday 
Microsoft Word Basics Workshop, a six-week facilitated Universal Class workshop. Registration is required for all weeks. Visit NyackLibrary.org for more info or email Dane Paciarello, 10a
We Need to Talk!  Completing Your Living Will and Healthcare Proxy, Registration required, 7p
Thursday
Introduction to the Internet, Registration required, 1:30p
Strategies for Improving Your Memory, Registration required, 2p
Food for Thought Lecture Series:  Infectious Disease, Carriers & Quarantine, Registration required, 7p
Saturday
Adult Bingo for Books, 2p
Sunday
VCS Co-sponsored Film:  Brothers of the Black List, 2:30p
The Book And Pub Club, Tues 7-8p

Astronaut Mark Watney became one of the first men to walk on the surface of Mars. Now, he's sure he'll be the first man to die there. That's the plot in The Martian by Andy Weir.
The Nyack and Valley Cottage Libraries have joined forces with a book club geared toward 21 to 30-somethings! Each month this group will meet in a different local bar and discuss a book over drinks. (21+ only). The Book and Pub Club meets this week at the Brickhouse Food and Drink, 20 S. Broadway, in Nyack.
Infectious Disease, Carriers and Quarantine,
Thurs at 7p
Fever, A Novel of Typhoid Mary, is a historical novel about the Typhoid epidemic of early 20th century. Author Mary Beth Keane leads a discussion about how New York balanced the moral conundrum of public health and civil liberties.
Brothers of the Black List, Sun at 2:30p
VCS Co-Sponsored Film

The true-life story behind Sean Gallagher's gripping and deeply moving film, Brothers of the Black List, arises from a harrowing incident dating back to September 4, 1992 when an elderly woman in a small town in upstate New York reports an attempted rape by a young black man who cut his hand during the altercation.  While looking for suspects, police contact officials at SUNY Oneonta, a nearby college, and a school administrator reacts by handing over a list of names and residences of 125 black male students.  For the next several days, those students are tracked down and interrogated by various police departments under a presumption of guilty until proven innocent.
Director Sean Gallagher tracks this story of racism that became the longest litigated civil rights case in American history.  The now grown students and their school counselor, Edward "Bo" Whaley, recount the disturbing events that the college and police department tried sweeping under the rug for many years thereafter.  An emotional story of social justice, this unsettling documentary is also a cautionary tale of equal rights gone wrong that is relevant today more than ever.
Have a question or a fun fact you want to know? We're looking for suggestions for our weekly Did You Know fact. Write to info@NyackNewsAndViews with your suggestions.
Did You Know comes to you each Monday on NyackNewAndViews, sponsored by the Nyack Library.