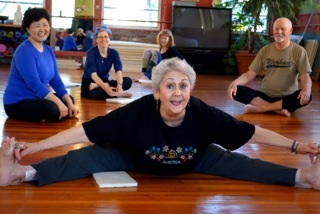 "Blessed are the flexible," observes the passage on Yoga instructor Paula Heitzner's recent flyer, "for they shall not be bent out of shape." Even though the maxim rings true for people of any age, Heitzner is gearing her instructional attention toward the geriatric set. Starting today, Heitzner is offering a mature yoga class each Wednesday from 1:15- 2:15p at the American Legion Hall.
As a teacher of yoga for over 50 years and the operator of the longest running local studio, Nyack Yoga Center, Heitnzer saw a growing need to a create a class for an aging population. "As we age, balance, breath and focus become more important," Heitzner explained. "I can assist people who are beginning to feel shakier on their feet. Stregthened muscles will give them greater mobility and more concentration can increase your energy."
Heitzner's Mature Yoga class is for some who has never studied yoga or for those who have not studied yoga in a long time ago, and are afraid to return. "I can help them re-build their confidence, get them in touch with their own resources and begin to trust themselves again."
At 78, Heitzner has benefited from practicing what she preaches. "Yoga has helped me in many ways. After 5o years teaching,  59 years of marriage, and four children, I am still able to cook holiday diners for my children and my grandchildren and run my yoga studio and dance classes."
"Paula has been a godsend," says student Bob Rubin, who has been taking Heitzner's classes with his wife for over 35 years.  Bob and his wife Frieda, both now their late eighties, play tennis and take aerobics in addition to yoga every week. "Because of Paula we are able continue our active lifestyle." Rubin says.
In the 1960s, Heitzner studied with Blanche DeVries, the wife and business partner of Pierre Bernard, America's first Yogi. Bernard founded an ashram on the grounds of what is now Nyack College in the 1930s that was called the Clarkstown Country Club
If you would like to register for Mature Yoga, call Paula at (845) 356-5613. The classes are held at the American Legion Hall Annex, 855 Piedmont Avenue, a venue selected because of its accessibility. Visit nyackyogacenter.com for more information.
See also:
Thanks to Debbi Cracovia for her contributions to this story.