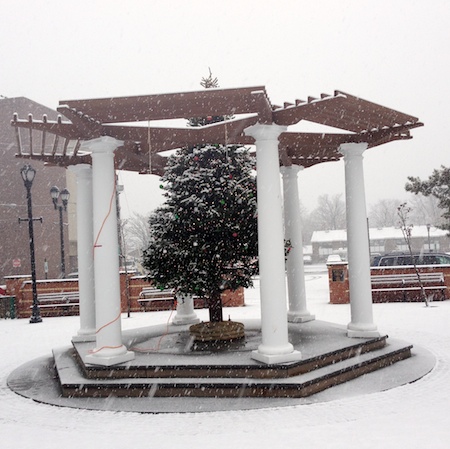 This weekend includes the First Friday of the holiday season and a Tree Lighting at Nyack's Veterans Park on Main Street.
On Friday, Dec 5 The Nyack Art Collective presents Illuminations, a group art show at Sweet Envy, 168 Main St. from 8-10p. Local businesses feature local artists the First Friday of each month celebrating the art culture of Nyack.
Sunday ushers in the holidays with seasonal music, hot chocolate and special holiday readings from 4-6p at Veterans Park Gazebo on Main at Cedar Street at the Nyack Chamber of Commerce's Annual Tree Lighting celebration. this event, originally scheduled for Saturday, has been moved to Sunday afternoon to avoid the predicted rains.
There will be music from the Bossy Frog Band, the Nyack High School Choir, the Lower Hudson Valley Youth Chorus and Nyack's own Marla Pasquale. Actor Dave Blau, manager of and JohnnyCakes restaurant, will share a special holiday reading.
There will be free holiday cheer for kids of all ages: hot chocolate from the Chocolaterie and hot cider from Mostly Myrtle's from the Nyack Farmers' Market. And Santa is scheduled to make an appearance, courtesy of transportation provided by the Highland Hose Company of the Nyack Fire District.
"Holiday Lights of Nyack has become a much-loved tradition in our community. The spirit of the season comes alive with caroling, hot chocolate and cider, holiday stories, Santa and the twinkling lights," said Scott Baird, President of the Nyack Chamber of Commerce. "Come for the lights, and stay for the shopping and dining. Our local businesses are spreading the good cheer with special offers for diners and shoppers before and after the event."