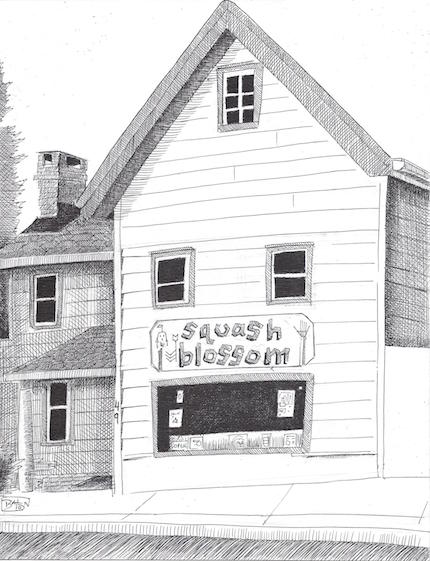 by Bill Batson
Since 1973, Nyack has been the home of Squash Blossom, a Native American crafts store operated by Trudi Feiner at 49 Burd Street. Squash Blossom is the last store standing from the crafts and antique renaissance that restored the economic fortunes of the village in the 1970s. The family that launched the venture, however, is equally recognized for the zeal of their progressive politics, personified by Trudi's late husband, Irving Feiner.
Irving and Trudi Feiner met at a self-proclaimed interracial resort called Camp Unity in 1948. A year after they met, Irving Feiner became embroiled in a legal case that tested the boundaries of political speech and transformed both of their lives, Feiner v. New York.
As a student on the GI Bill at Syracuse University, Feiner mounted a soap box one afternoon to urge local residents to attend a rally. The gathering was to protest the verdict in the trial of the "Trenton Six," a group of black men given the death penalty for killing an elderly white shopkeeper based on a confession that was later impeached. Former United States Assistant Attorney General, O. John Rogge, a member of the defense team, was on the program. A permit to hold the event in a local high school had been revoked by the Mayor of Syracuse.
Subsequent accounts reported that Feiner gave a contentious speech that disparaged elected officials. When a member of the crowd threatened to "get him down" from his improvised platform if the police didn't, Feiner was arrested.  The case made it to the Supreme Court where a 6-3 majority ruled against Feiner, requiring him to serve a one month sentence for the misdemeanor. He was also expelled from the University.
"I understand that people in totalitarian countries must obey arbitrary orders," wrote Justice Hugo Black in his dissent. "I had hoped that there was no such duty in the United States."
According to Irv Feiner's obituary in The New York Times "The legal principle involved came to be know as the "heckler's veto," meaning that a disruptive listener could effectively stop a controversial speaker by threatening havoc."
The Feiners moved to Rockland County in the late 1950s and joined a group of young couples that included Betty and Carl Friedan (Betty would later write The Feminine Mystique) and Herb and Edith Kurz (Herb, who passed away on November 24, 2014 founded Presidential life and was a prolific philanthropist.) The goal of the families was to start a progressive interracial community.
When they were unable to acquire the land they sought for their utopian enclave, the Feiners bought a home in nearby Blauvelt. They quickly regretted the decision. One of their three daughters, Rachael, brought home a book from school entitled "Epaminondas and His Auntie," a work of unreconstructed Jim Crow era racism.  They moved to Nyack in 1963 because of the village's diverse demographics.
In Nyack, the Feiners worked with a group that included Joan Bodger and Win and Betty Perry and Gerry and Eddie Dahlberg to create Nyack Head Start. Irving began a successful career in New York City as a lithographer.
The tragic death of Rachael in a car accident in 1971 came 6 weeks before the Feiners planned to leave Nyack. The family's relocation to Santa Fe, New Mexico seemed to exacerbate their pain, so after two years they returned. Packed into their station wagon was the inventory for the first Squash Blossom that was located on the corner of Main Street and Broadway.
In 1974, Trudi and two partners bought their current location from the estate of a member of the Blauvelt family.  The structure once served as the hay loft for the horse stables used by the St. George Hotel.
Irving continued his outspoken exploits, running for Rockland County Executive, New York State Assembly, and Mayor of Nyack.  As the local organizer for Jimmy Carter's Presidential campaign in 1976, Feiner successfully changed New York State election law to allow voters to know which candidate convention delegates in Democratic Presidential primaries were supporting.
Following in her parents footsteps, Emily Feiner ran for Village of Nyack Trustee in 1985, winning by two votes. Feiner contends the margin of her victory came from "my mom and my dad." Emily is now an Outreach Manager at the New Jersey VA for programs for soldiers returning from Iraq and Afghanistan. Emily's sister, Susan, is a Professor of Economics and Women and Gender Studies at the University of Southern Maine, where she is also the president of her union.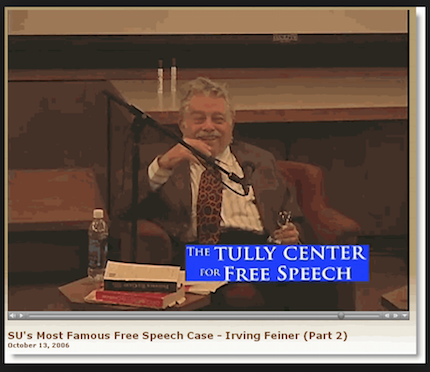 In 2006, Feiner, who later completed his degree at Syracuse, was invited to give the lecture at the dedication of the Tully Center for Free Speech.
Irving Feiner passed away in January 2009, but not before seeing Barack Obama's inauguration as the first African American President of the United States. He watched the watershed event on a large screen TV he purchased just for the occasion. It was his last waking day.
All of the objects that are assembled on the shelves of Squash Blossom have sacred meaning. Trudi can tell you about the significance of each Zuni fetish animal or the rituals surrounding wedding vases. She can tell you about how dreamcatchers serve to ensure that when the sun rises, all your bad dreams just disappear. Yet, as incomprehensible as some of the losses the Feiners have weathered are, a photo behind the counter might be their dreamcatcher made real.
In the picture, Laurie Roberts, Trudi and Irving Feiner's granddaughter, is standing with President Obama, during her recent White House internship. For two life-long advocates for racial equality and political empowerment, the image, in substance and symbolism, represents the progress that they fought to secure.
If you want to learn more about Native American culture, or talk politics with an old-school progressive who tells it like it is, visit Squash Blossom Monday through Friday 11a to 5p and Sundays noon to 5p during the Christmas season, after December 25 the store is open Thursday through Sunday.
Bill Batson is an activist, artist and writer who lives and sketches in Nyack, NY. "Nyack Sketch Log: Squash Blossom" © 2014 Bill Batson.