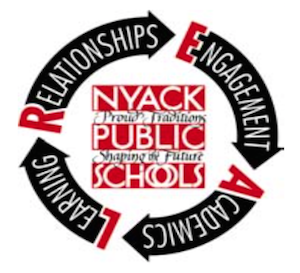 Over the past three years more students are taking Advanced Placement courses at Nyack High School and more students are earning a score of three or higher on the five point scale used to grade these exams. That achievement has won the praise of parents and educators as well as The College Board, which selected Nyack HS for its annual AP Honor Roll.
Only 547 schools in the US and Canada made the cut. The rankings are based on AP data from 2012 to 2014 across 34 AP tests including world language and culture.
"The fact that Nyack High School has increased the number of students participating in AP while simultaneously improving the number of students earning AP Exam scores of 3 or higher is a testament to the hard work and effort of our staff and students," said Nyack Schools Superintendent Dr. James Montesano, Superintendent of Schools. "This recognition of our high school by the College Board further defies the myth that intellectual ability is a 'thing' but rather all children are born with sufficient natural ability to achieve significant school work provided they are given the opportunity, are supported by teachers that genuinely believe in their ability, and are willing to work hard."
The College Board uses three criteria for including a school on the AP Honor Roll:
Increase participation/access to AP by at least 4 percent in large districts, at least 6 percent in medium districts, and at least 11 percent in small districts
Increase or maintain the percentage of exams taken by African American, Hispanic/Latino, and American Indian/Alaska Native students
Improve performance levels when comparing the percentage of students in 2014 scoring a 3 or higher to those in 2012, unless the district has already attained a performance level at which more than 70 percent of its AP students are scoring a 3 or higher.
Source: Nyack Schools, 12/9/2014