Nyack Advertises At The Palisades Center
Nyack has always been a unique place — with the exception of an unincorporated area with the same name in the Sierra Nevada Mountains of California, it's the only Nyack in the United States. The village's name has been making the rounds during 2014: in the movies (the Fall 2014 release of The Skeleton Twins was set and filmed in the village), on the train (Metro North advertising in Tarrytown), on TV (HBO's The Leftovers) on the radio (advertising on The Peak), on the Internet (streaming ads on WNYC.org, Pandora and YouTube) and on the West Side Highway (a Oct 2014 billboard, "Presenting our 338th Fall Season").  And now, Nyack has gone where no Main Street merchant has ever dreamed of ever going before — inside the Palisades Center.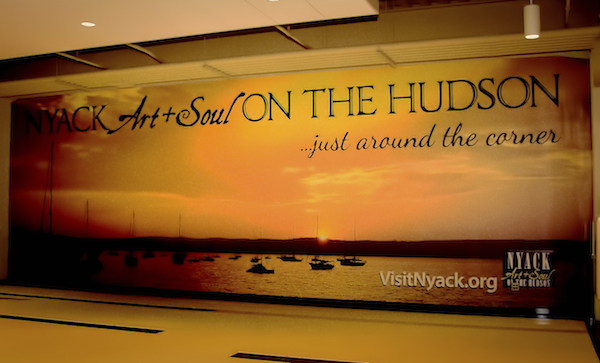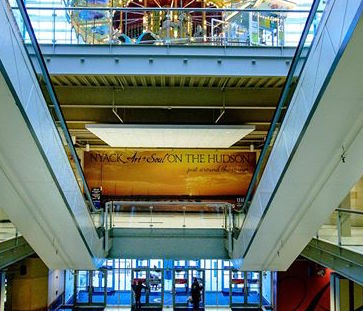 A  38 x 13 1/2 foot mural photograph featuring a sunrise over the Hudson is now on display at the Palisades Center — a location that receives 24 million visitors each year. The poster features the "Art and Soul" slogan created by VisitNyack.org.
The Nyack ad at the mall came about through a new cooperation between retail sales neighbors, who compete for customers but that have strengths which complement each other. "There exists a shining opportunity to join efforts between America's 8th most visited shopping center and its next door neighbor," says Palisades Center Marketing Director Natalie Tronolone.
The mural is one component of VisitNyack.org, a integrated marketing campaign that spent $51,000 to promote the village in 2014. "By using targeted media like Google keyword search advertising, Pandora and WNYC.org audio streams, we can make the most of our limited budget while raising consumers' awareness of the Nyack brand and the village as a shopping destination," says Peter Saluk, who advises the Nyack Marketing Association as president of Saluk Creative, a Nyack-based advertising agency.
The photo used in the Palisades Center display was taken by Nyack resident and retired physician, Dr. Arnold Roufa, who was excited to see his work on display at the mall in almost life size proportions. "Up the escalator to the second floor, turned left and looked to the left. There it was! My heart pounded and then I took photos. Never did I think I would see one of my photos enlarged to this size," he said.
"It's a new era of cooperation between Main Street and the Mall," said VisitNyack Marketing Director Meg Mayo. "We appreciate the opportunity to share Dr. Roufa's spectacular Nyack sunrise photo with the two million monthly visitors just up the road from Nyack."
The mural, which is located on the second floor near the Cheesecake Factory entrance to the Palisades Center, will be on display through 2015.
See also: Nyack: Online, At The Movies And On The West Side Hwy, 10/17/2014