Nyack, Dec 24 — The Herbert Kurz Foundation will donate $10,000 to the Nyack Library. The late Herb and Edythe Kurz were generous community philanthropists that supported many Rockland County non-profits including The Nyack Center, Rockland Community College, People to People, the Center for Safety and Change (formerly the Rockland Family Shelter) and Good Samaritan Regional Medical Center. Herbert Kurz founded Presidential Life, a Nyack-based life insurance company he ran for 40 years. He died on Nov 24 at the age of 94. His wife, Edythe, passed away in 2011.
"We plan to honor Mr. Kurz by using the foundation's gift to enhance and support library services," says Nyack Library Director Jane Marino. "This gift will be a lasting example of his generosity."
Kurz and Nyack Center Director Kim Cross were named co-recipients of the 2014 Fellowship of Reconciliation Nyack Area Peace Prize last month.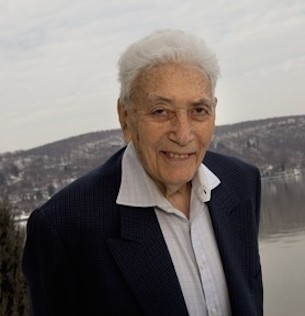 Presidential Life, the Nyack life insurance company Kurz ran for 40 years, was acquired by a Bermuda holding company and renamed Athene in 2012. Herb Kurz was a life-long progressive supporter of civil liberty activism. Many of Presidential Life's business practices were ahead of their time, setting a precedent for socially responsible action. Kurz was honored by President Bill Clinton at the White House Conference on Corporate Citizenship in 1996. He was the key funder of the NYU Tamiment Library's Frederic Ewen Center, named for his uncle, a Brooklyn College professor who was blacklisted during the McCarthy era. Mr. Kurz also endowed a chair in constitutional rights at Brooklyn College, his alma mater. After World War II, in which he served as a navigator aboard B-26 bombers, he founded Veterans Against Discrimination, which became an active element within the radical Civil Rights Congress.
The Kurz Foundation donation will be used for the general support of the Nyack Library, which serves Nyack, South Nyack, Upper Nyack and Grandview.
See also: