by Frank LoBuono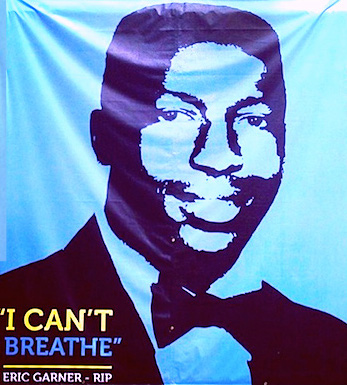 A grand jury in Staten Island has decided not to indict a white police officer in the death of Eric Garner, an African American who was placed in a choke hold after being caught selling loose cigarettes on the street. I was not part of that grand jury and cannot know all of the evidence presented. Apparently, the jury did not believe that the move to "subdue" Mr. Garner violated the law. I will not argue this point. I would tend to agree that, under the circumstances, it would be difficult to prove that the police deliberately applied tactics what would cause Mr. Garner's death.
However, it still does not address the issue that Mr. Garner begged to be allowed to breathe 11 times with his face smashed into the pavement – while other police and EMT's, including a supervisor, basically let him die. LET HIM DIE. This, to me, is the crux of the case and is INEXCUSABLE. Further, the comments I have read, particularly from ex-policemen, are HORRIBLE. One actually called Mr. Garner a "fat pig" and, basically, that he deserved to die. As long as the police maintain this attitude, there will be NO peace on the streets. By not "manning up" to their culpability, they continue to make themselves targets.
Respect is mutual. It cannot be a one-way street. Comments I have recently read online from law enforcement suggest that many have forgotten that they are still public servants.  Many of the policemen I know, current and retired, have a sense of entitlement because they do a tough and dangerous job and the believe they are entitled to wear the label hero automatically. They want to be acknowledged as different, perhaps even above the average person. They want to be recognized for their service.
We ALL have jobs to do. Some are, perhaps, more important (or dangerous) than others. But, in the end, we all do our jobs. And, I should point out that there are MORE dangerous jobs than than that of policeman*. Both construction work and truck driving, from the stand point of deaths while on the job, are much more hazardous than being a police officer. Even waste removal is considered more dangerous. In fact, policing doesn't even make the top 10 (neither does firefighting).
Frank Serpcio, the corruption busting cop make famous by Al Pacino in the film, Serpcio, recently wrote an op-ed article for the New York Times (Oct. 23, 2014) stating that the police haven't changed all that much from when he exposed the rampant corruption in the NYPD during the 60's and 70's. He was treated as a pariah by his fellow officers then and still is!! Why?? Because there is something called "The Blue Wall" which is an unwritten rule that one cop will not expose another, even when that cop is BREAKING THE LAW. It's as inexcusable as it is frightening. If the police, with ALL of their power, will not control themselves, then who will?
Recently, I was having a beer at local establishment. The subject of the police, enforcement, corruption, and Frank Serpico was brought up. An ex-cop from the Bronx contributed this gem: "I thought Frank Serpico was a piece of shit then, and I still do. And all my cop friends feel the same way."Really? Many will say that he is in the minority. I am not so sure.
I am not anti-cop. I grew up around cops and guns. My father worked in law enforcement for many years. I spent many a Saturday afternoon at the police shooting range with my father and his buddies. He also taught me that right will always be right and wrong will always be wrong – and that applies to EVERYONE.
What the police don't seem to understand is that the more that they retreat behind THE BLUE WALL (aka The Thin Blue Line), the more they are condemned to stay there, out of touch with the people that they serve. With no JUSTICE, there can be no PEACE. A relationship built on MUTUAL respect between the people and the police is the only answer. Until that happens, the police will only make a tough job that much tougher.
*Statistics compiled by the Bureau of Labor Statistics (BLS)
Frank LoBuono has lived in Nyack for over 30 years writing and covering Rockland County in print, on TV and online. He works as a cameraman and an editor for a major TV News organization. You can read his blog at Talk-Frank.blogspot.com.