[info]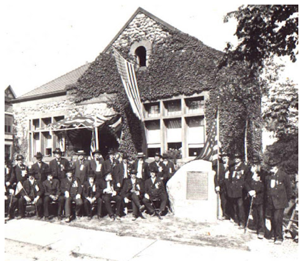 Did you know …The Rockland Boulders in Pomona are all about baseball but the original Rockland Boulder in Nyack is almost as old as the game of baseball itself. The 10-ton rock in front of the Nyack Library, dedicated to Abraham Lincoln and the Union Army, was dragged from the banks of the Hudson River by a team of 18 horses and 100 men with ropes. Local school children raised the funds to cover the expense of excavating and depositing the immovable monument and Civil War veterans attended its dedication on June 13, 1908. [/info]
Here's the week at a glance
at the Nyack Library.
Monday
Shakespeare Discussion Group, 4 – 5:30p
FREE Assistance with
NYS Health Insurance Programs, 5p
Tuesday
Tuesday at Two Film Series: Fiddler on the Roof, 1p
Wednesday
John Scott Armchair Walking Tour, When Nyack Meant Business, Wed., 12/10, 7:00
Thursday
Create a lovely centerpiece for displaying or gifting with seasonal greens flowers, fruit, vegetables and festive accents, 7-8:30p.Please bring a water-proof container no larger than 6″X6″ There is a $5 materials fee payable at the door. Register/Seating limited to 16.
Sunday
Bill Batson artist reception, 2-4p
Armchair Walking Tour: When Nyack Meant Business, Wed at 7p (12/10)
In 1870 the Erie Railroad reached Nyack connecting the village to New York City. The arrival of the railroad transformed Nyack from a small riverfront village to the commercial capital of Rockland County and a new commuter suburb of New York City.
The growth of downtown Nyack and its business center will be described with many old photographs of that era by Bob Goldberg, trustee of the Historical Society of the Nyacks. You will meet many of Nyack's early business entrepreneurs, the businesses they founded, and the buildings and stores that they built, many of which still line Broadway and Main Street. Return to the times before the malls when Nyack was the retail center of Rockland County.
Nyack Sketch Log Exhibit and Book Signing, Sun at 2p (12/14)
An exhibition of original drawings by Bill Batson, author and illustrator of Nyack Sketch Log will be on display through December 31.
Batson new book, the Nyack Sketch Log, includes 55 sketches and short essays that he has published on NyackNewsAndViews. Topics include Edward Hopper, Carson McCullers, the Underground Railroad and recognizable local small businesses and civic institutions. (And yes, we agree that it's a great holiday gift!)
Bill will have copies of his book to sell and sign.
Did You Know comes to you each Monday on NyackNewAndViews, sponsored by the Nyack Library. Have a question or a fun fact you want to know? We're looking for suggestions for our weekly Did You Know fact. Write to info@NyackNewsAndViews with your suggestions.