by LeeAnn Mailly
Here's a run down of what to do and where to do it this weekend.
Friday
We know it's all about "shop to you drop" on the day after Thanksgiving. But when you are all shopped out, come to "Edward Hopper Paints His World" to see illustrations from Wendell Minor's acclaimed new childrens' picture book about the life of Edward Hopper. Exhibit runs through January 4, 2015. 12n-5p, Edward Hopper House, 82 North Broadway.
Saturday
Nyack merchants invite you to think small before driving to the mall on Small Business Saturday Nov 29. There will be Free Parking throughout downtown Nyack all weekend, Nov 29-30.
ArtsRock presents Milk and Cookies Playhouse featuring Walk to the Beat, Jr., a percussive world music and dance experience for kids ages 1-10. More than 25 performers from 5 cultures. Tickets are $15 (children under 18 months free). 2p at Nyack Center, 58 Depew Ave.
Gift In Gratitude, a concert by Marianne Osiel. 7:30p at historic St. John's Episcopal Church in Tomkins Cove, 170 Mott Farm Road.
Don't miss the last day to see A Nyack Toolbox – Implements from the Past on display. Implements in the exhibit include hammers, chisels, and drills as well as a doctor's stethoscope, a pharmacist's mortar and pestle, a bootblack's footrest and machinists' tools. The exhibit features work by William Rauschenberg. Noon to 3p at the Historical Society of the Nyacks Museum, 50 Piermont Ave, behind Nyack Library and across from Memorial Park.
Mike Lawlor Band performs rock and blues at Prohibition River. No cover. 10p, 82 Main St, Nyack.
Sunday
The award winning Nyack High School Chamber orchestra will be from 1-3p at The Palisades Center in the atrium by Lord & Taylor.
Enjoy an afternoon of Victorian Tea at an historic bed & breakfast. Charming holiday decorations and tasty treats. Seatings at 12:30p and 3:30p. Cost: $25 per person. For reservations, call 845.429.8447. At the Bricktown Inn Bed & Breakfast, 112 Hudson Avenue, Haverstraw.
Berta and Elmer Hader: A Lifetime of Art, an exhibit from The Historical Society of the Nyacks featuring the work of Grandview authors and illustrators of childrens' books. On display through November at the Nyack Library, 59 S. Broadway.
Next Week
Tues:
'Holiday Inn' at the Tuesdays at Two weekly film series in the Nyack Library. This months theme is 'Movies in a Celebrating Mood'. 2p at Nyack Library, 59 South Broadway.
Nyack Chamber Holiday Party. Celebrate a year of great events and community fun! All chamber members and non-members welcome to come and meet the Nyack Chamber board members and other business owners. Current member or prospective members alike should bring their card and share their business with other community members. Enjoy craft food and drinks, as well as door prizes. Prohibition River, 82 Main St.
Wed: Rivertown Film presents My Old Lady, a film about a failed playwright who travels from New York to Paris to reclaim his only asset – an apartment left to him. A comedy/drama centered around the interwoven histories and secrets of the real estate property. Tickets: $11; $9 members, students & seniors; $8 senior members. Please bring a game or toy to this event to support Nyack Center's holiday toy drive for children in the area. 8p at Nyack Center, 58 Depew Ave.
Thurs:
The Nyack Indoor Farmers' Market begins its indoor season at the Nyack Center featuring food from local farmers as well as florists and craft artisans. Dec 4 – March 26, excluding Dec 25 & Jan 1., Dec 4. 8a – 2p

 at 

Nyack Center, 58 Depew Ave.

Bill Batson, author of Nyack News and Views weekly Nyack Sketch Log column,  hosts a launch party for his new Nyack Sketch Log book from 6-8p at the Hudson House, 134 Main St. The compilation of 55 sketches and short essays is sponsored by Weld Realty. You  can pre-order a signed copy of the limited first edition at BillBatsonArts.com.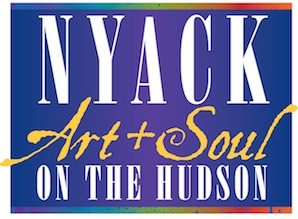 The Nyack Weekender
is sponsored by
and the Nyack Marketing Association.