by LeeAnn Mailly
Here's a run down of what to do and where to do it this weekend.
Friday
The Carnegie Concert Series welcomes the internationally acclaimed Furuya Sisters – all Julliard graduates – as they perform piano trios by Mozart, Kreisler, and Mendelssohn. Purchase tickets online at CarnegieConcerts.org or call 914-200-3622. 7:30p at Nyack Library, 59 South Broadway.
Jennifer O'Connor performs at the Upstairs Lounge at Prohibition River. 9p-12a. O'Connor is a singer-songwriter who has toured with the likes of Wilco and the Indigo Girls and who runs the independent record label Kiam Records based in Nyack. No cover, 82 Main St, Nyack.
MusicWorks, a non-profit that supports music in Nyack Public Schools, presents MusicWorks Coffee House. Enjoy the talents of Nyack High School students as they perform their music and poetry in a cafe setting. Food and beverage for purchase. Suggested donation $10. 7p at Nyack High School Cafeteria, 360 Christian Herald Rd.
Take part in Music to Table – a concert to benefit People to People, a non-profit that runs Rockland's largest food pantry. Don't miss special guest and Grammy winning musician Tom Chapin! Also featuring Jim Kimak, Jeff Doctorow & Lorena Mann (Old No. 7 Band), Michael Shapiro, Alex Aitkin , Michael Roninson and The River Acoustic Band. Suggested donation $25, seniors $20, students $10. Purchase tickets at  Brown Paper Tickets or by calling 800-838-3006. A reception follows the concert. 8p at The Palisades Presbyterian Church, 117 Washington Spring Road, Palisades.
Saturday
Nyack

Center's annual Made by Hand craft fair is your chance to do your holiday shopping with over 40 artisans! 10a-4p at Nyack Center, 58 Depew Ave.
Carnegie Concert Jazz Series presents the pianist Yoni Levyatov who performs encores by Chopin, Tchaikovsky, and Rachmaninoff. Other major works include Schumann's Carnival Jest from Vienna, Beethoven's charming Sonata in G major, and Liszt's gypsy-inspired Hungarian Rhapsody No.10. Purchase tickets at CarnegieConcerts.org or 914-200-3622. 7:30p, Nyack Library, 59 South Broadway.
Come to "Edward Hopper Paints His World" at the Hopper House to see illustrations from Wendell Minor's acclaimed new childrens' picture book for a glimpse inside the life of Edward Hopper. Exhibit runs through January 4, 2015 at the Edward Hopper House, 82 North Broadway.
Rockland County Supercross Cup 2014. Over 1000 amateur and professional bicycle racers are expected to compete in the USA Cycling ProCX Supercross this weekend in Stony Point. Riders race on a 2.5 mile course over varied on and off-road terrain on a route that requires both riding and running with bicycles slung over a shoulder. Spectators can witness the action at arms length: there are no cheap seats in cyclocross! Sat & Sun. Anthony Wayne Recreation Area, Palisades Interstate Parkway, Exit 17, Stony Point.
The Lafayette Theater presents "Amadeus," the 1984 Oscar-winning film about an envious composer who tries to sabotage Mozart. Come for the  pre-movie Wurlitzer Organ concert at 11a. Movie at 11:30a. Tickets $9: Lafayette Theatre, 97 Lafayette Ave, Suffern.
Sunday
Next Week
'Julie and Julia'  at the Tuesdays at Two weekly film series in the Nyack Library. 2p at 59 South Broadway.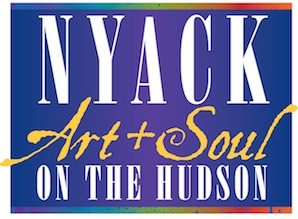 The Nyack Weekender
is sponsored by
and the Nyack Marketing Association.