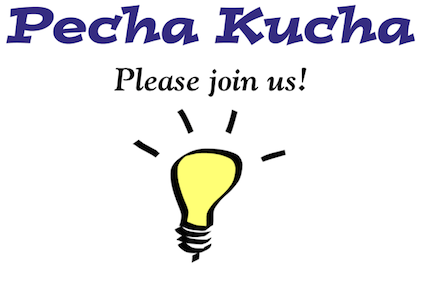 The internal creative process, normally a mystery, will be on stage at the Nyack Center on November 8. Rivertown Film will hold a benefit organized around a unique cultural forum called a "Pecha Kucha." Pecha Kucha is a Japanese term for the sound of conversation (chit-chat). Events by the same name were originally conceived as a setting where creative people in all walks of life could meet, show their work, and exchange ideas. Fifteen artists from various disciplines will participate on the 8th including a photographer, a filmmaker, a singer, a  dancer, a drummer, a painter, and a writer. In a rapid fire format, each will reveal what inspires them using words and 10 images projected on a large screen. Each slide will be shown for only 20 seconds
Artists scheduled to appear are: Spencer Tunick, photographer; Minh Uong, illustrator; Glen Schloss, drummer; Stan Warnow, filmmaker; Natasha Rabin, visual artist; Sean Jones, photographer; Lisa Sokolov, singer; Josh Page, singer, Anna de la Paz, Flamenco dancer; David Sugar, artist (glass); Gabrielle Lanser, dancer/filmmaker; David Means, author; Charles Conyers, filmmaker.
In addition to some notable names, Rivertown has invited a Nyack High School senior to the ranks. Eliana Zimmerman, will play Bach cello as people walk through the doors of the Nyack Center. She's a pre-college student at the Manhattan School of Music under Jennifer Green. At the end of the presentations guests have the opportunity to mingle with the artists, ask questions, and enjoy casual conversation.
Barrie Peterson, of Rivertown Film, explained some of the thought process behind choosing such a presentation: "I was transformed in college watching Bergman and Fellini films and marveled at their creativity. Rivertown Film has been integral to the promotion of the cinematic arts in the Rockland County area. Since our Wednesday night audiences enjoy our post-screening discussions with writers, directors, actors and singers, we are broadening this dialogue to include all artistic disciplines. Pecha Kucha will be a unique opportunity to hear the source of inspiration, the mystery driving local accomplished creative fine and performing artists." The artists performing at the event are almost exclusively from the Nyack area, many are known as friends and neighbors to our residents. In a village so rich in creativity, it is a special event bringing them all together in such an intimate setting.
Mayor Jen Laird White expressed her enthusiasm for the night of artistic expression by commenting on how it reflects the artistic nature of Nyack. White said, "Nyack is a community rich with creativity and a hunger for inspiration which allows amazing organizations like Rivertown Film to flourish.  And when you tap into that creativity through an event like Pecha Kucha, getting just the teeniest insight into what makes our artists tick, well, that is an opportunity that just shouldn't be missed!" The event has drawn many local sponsors, including a major contributor, Avida Wine Bar, Main St. Nyack.
This unique, entertaining and enlightening evening begins at 8pm at the Nyack Center (Broadway and Depew). Nyack Mayor Jen White will serve as emcee. Tickets are $40,and includes complimentary hors d'oeuvres; beer and wine are available for a small contribution. Tickets are limited, and sure to go quickly. For more information and tickets, go to www.rivertown film.org or call (845) 353-2568.
Rivertown Film is a non-profit organization, which was founded in 2001, and is made possible by the New York State Council on the Arts with the support of Governor Andrew Cuomo and the New York State Legislature, and Starbucks, Orange and Rockland and Painter Smith Advertising. Its Cultural Partners are Elmwood Playhouse and the Union Arts Center. Their mission is dedicated to celebrating, exploring and promoting the art of the motion picture. Their Creative Advisory Board includes such industry professionals and Rockland residents as Jonathan Demme, Ellen Burstyn and Bill Irwin.