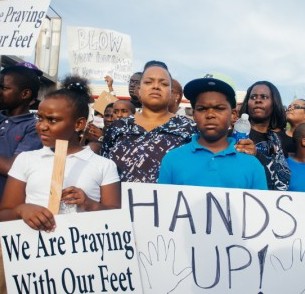 Last night, a St. Louis County Grand jury voted not to indict Ferguson, Missouri Police Officer Darren Wilson in the shooting of Michael Brown on August 9. Tonight at 6:30p, the Rockland Coalition To End The New Jim Crow holds a rally in Spring Valley at Memorial Park – 1 Veterans Drive.
This article entitled "Our Heats of Full of Ferguson," by Fellowship of Reconciliation Director of Communications Linda E. Kelly was originally published on October 18.  Since the Martin Luther King Jr. led Montgomery Bus Boycott in 1955, FOR has been participating in the non-violent direct action campaigns to secure racial justice in America.
by Linda E. Kelly, FOR-USA
My skin is buff-colored, though I'm called white. I grew up in a small town in Connecticut where most everyone was called white. The first people I met with dark skin called black were the ten or twelve children bused in from Hartford to attend our elementary school. My mother sponsored one of the girls.
Her name was Debra and she often wore a pleated skirt and a white button-down blouse as if it were her school uniform. She wore multi-colored rubber bands in the many braids in her hair. She was tiny, quiet, and knock-kneed, and I wanted to protect her like a little sister. I could see the fear in Debra's eyes. My father had died of cancer just two years before making us the only family that I knew of in our small town without a dad. Debra's eyes told me how I felt – different and pitied and scared.
When I grew up, I left the small town and moved to New York City in search of adventure. From then on, my community has been multi-colored. When I married and had a child, we decided to return to the mainland to satisfy our picket fence values and searched the tri-state area for a multi-colored town. We moved to Nyack, NY based on its progressive reputation and diversity. We wanted our child's life, our lives, enriched by a full spectrum of humanity.
My daughter's skin is ivory-colored, almost porcelain white. As soon as she could make her own choices, she chose black baby dolls and black Barbie dolls, and now, as a teenager, most of her friends are Latino, Haitian, and all manners of black. Recently, she made a new black friend who, unlike her other friends, shied away from conversations with me and wouldn't look me in the eye. So, I asked why. My daughter detected the racism laced within my inquiry and called me out on it.
She said, "Mom, it's not that she can't be trusted, it's that you're white."
Then she backed up her statement with stories about how her friends are treated by some of the white folk in our town like the shop keeper who wouldn't change a $20 for a black boy, while the same shopkeeper changed the same $20 for her without question. And while my daughter talked, I recalled witnessing a white mom of dark-skinned children from an interracial marriage complaining about her son being ostracized by packs of white boys in our town. She fought back tears and I went numb, let my thoughts drift out of the moment, because I didn't want to hear that racism exists in Nyack. I thought our town was progressive; I thought I was progressive.
And then my daughter said, "Mom, you have no idea what they go through," and I heard her. She's right.
I have no idea what it's like to be deemed inferior or dangerous at a glance. I don't know what it's like to worry about my child being excluded and berated by the majority of the kids at school, or, worse, fear for her safety on the streets at the hands of law enforcement. I heard about a black mom forbidding her son from wearing a hoodie and I don't know what it's like to have to be that cautious. I don't know what it's like, and for that reason, I haven't given racism any consideration in many years. It's been ages since I thought about Debra and what I learned about myself from her eyes; and what I'm realizing today is that it wasn't my daughter's friend who averted her eyes, it was me.
So, Ferguson is waking me up. The spirits of Michael, Trayvon, Renisha, Shantel, Amadou, and countless others are waking me up. All the young people standing with their hands up before the tanks and machine guns and tear gas are waking me up. They're calling, "Wake up, open your eyes, and see that there's a soul sickness across the land – a fatal dis-ease – that has prevented you from seeing our humanity and has disconnected you from the human heart." And, I believe, that Love from Ferguson to Palestine is calling us all to be whole.
Linda E. Kelly is a writer and the Director of Communications at the Fellowship of Reconciliation.

The Fellowship of Reconciliation (FOR) is composed of women and men who recognize the essential unity of all creation and have joined together to explore the power of love and truth for resolving human conflict. While it has always been vigorous in its opposition to war, FOR has insisted equally that this effort must be based on a commitment to the achieving of a just and peaceful world community, with full dignity and freedom for every human being. FOR's national headquarters is located in Upper Nyack.
Photo Courtesy of Creative Commons. This article originally was published at FORusa.org.