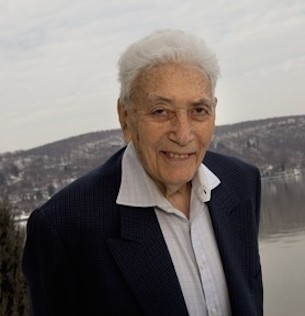 Herb Kurz, a philanthropist who generously supported The Nyack Center, Rockland Community College and Good Samaritan Hospital, died on Monday Nov 24 at the age of 94. He was the founder of Presidential Life, a Nyack-based life insurance company he ran for 40 years.
Kurz was a life-long progressive supporter of civil liberty activism. Many of Presidential Life's business practices were ahead of their time, setting a precedent for socially responsible action. Kurz was honored by President Bill Clinton at the White House Conference on Corporate Citizenship in 1996.
As a philanthropist, Mr. Kurz has supported numerous local non-profits, including Rockland Community College. He was the principal funding source for the Frederic Ewen Center at NYU's Tamiment Library. The center was named for his uncle, a Brooklyn College professor who was blacklisted during the McCarthy era. Mr. Kurz also endowed a chair in constitutional rights at Brooklyn College, his alma mater.
Last week, Kurz and Nyack Center Director Kim Cross were named as the 2014 recipients of the Fellowship of Reconciliation's Nyack Area Peace Prize. The Kurz family recently made a $25,000 donation to the Nyack Center to be matched against any contribution through the end of the year. "Herb had always been a supporter of Nyack Center since its inception," said Cross.
"Herbert Kurz was a philanthropic leader whose generosity improved the quality of life for so many people in our community," said Mary P. Leahy, M.D., CEO Bon Secours Charity Health System; Good Samaritan Regional Medical Center is part of that health system. "The Kurz family has been important advocates of health care, and Good Samaritan is privileged to be among the organizations they have chosen to support."
A September 1991 New York Times article about Presidential Life presented Kurz and his company as a major players in the insurance industry. "The 71-year-old Mr. Kurz… founded Presidential 25 years ago and almost singlehandedly built it into one of the country's larger life insurers." He retired from the company after 40 years at its helm in 2009. Presidential Life was sold to Bermuda based Athene Holding Ltd in 2012 for $415 million.
During World War II Herb Kurz served as a navigator aboard B-26 bombers. After leaving the service, he founded Veterans Against Discrimination, which became an active element within the radical Civil Rights Congress.
"Herb has combined a shrewd business sense and responsible business conscience to make his business successful and achieve national renown," said Connecticut Congresswoman Rosa DeLauro in 2004 on Kurz's 84 birthday. "Honored at the White House Conference on Corporate Citizenship in 1996, Presidential Life was known for its commitment to hiring both women and minorities. When he started his business 40 years ago, Herb made it a practice to give the first chance at a position to a qualified minority person. In a time when women and minorities had difficulty in securing a place in the business world, Herb opened the doors of opportunity to hundreds-a practice which he continues today," she said.
A 1941 graduate of Brooklyn College, Herb Kurz was a generous supporter of programs at his alma mater, including a recent $99,000 gift to the Black and Latino Male Initiative at the CUNY school. The Brooklyn College program is dedicated to increasing the number of black and Latino males who enroll in and graduate from the college by providing peer mentoring, tutoring and coaches to help improve students' writing as well as seminars that encourage their self-awareness and self-esteem. Kurz was a supporter of programs that helped students who faced hardships, having attended college during the Great Depression. Locally, Herb and his wife Edythe are credited with helping to raise over $800,000 for SUNY Rockland over two years through donations and matching grants.
Herbert Kurz was born in Harlem on March 16, 1920. He is survived by his son Leonard in Piermont and his daughter Ellen Kurz of Cambridge, MA.
A funeral service  will be held on Friday Nov 28 at Temple Beth Torah Route 9W, Upper Nyack, NY  at 10a.
See also: