Learn From The Bloc And Vote At Your Spot
Whether you vote Democrat or Republican today, your next governor will be a Westchester County resident with Italian ancestry.
Incumbent Governor Andrew Cuomo lives somewhere near Mt Kisco; challenger and Westchester County Executive Rob Astorino lives in the hamlet of South Salem. One is a fiscally conservative candidate who passed a two percent tax cap in NYS which over time will hold down taxes and force many inefficient local governments to combine or un-incorporate; the other is a Republican whose chief campaign position seems to be "he isn't Andrew Cuomo."
Where To Do It
If you need to know where to vote in today's general election, visit the Rockland County Board of Elections. Pop in your address and birthday and they will tell you where to go.
Polls are open until 9p.
You can also see a sample ballot so you know what to expect when you pull the curtain closed in the voting booth (which isn't a booth anymore, and doesn't have a curtain. But you get the idea.)
In Rockland County, voters are being asked to approve country charter revisions passed by the Rockland County Legislature. The Democrats, who control the legislature, are in favor of changes which deal with issues like succession for leadership positions, letting the legislature reject temporary county executive appointments and requiring the annual budget to be submitted to the legislature three weeks earlier. Republican County Executive Ed Day is asking voters to reject the charter because it doesn't include language about term limits. Democrats, led by Rockland County Legislator Barry Katrowitz say voters should approve the proposed changes and that the county exec is just grandstanding.  Decide for yourself in these op-ed's by County Exec Ed Day and County Legislator Barry Kantrowitz. You can read the abstract for the proposed charter reform at RocklandGov.com.
Although Ed Day isn't on the ballot, his son is: Christopher Day, in his first run for public office, is running against incumbent Congresswoman Nita Lowey. She is a 13 term Democrat and the ranking member on the House Appropriations Committee; he is a Republican that went to RCC and Yale and served in Iraq and Afghanistan.
Here's a rundown of the key races you will find on the sample ballot for the Village of Nyack, NY. Incumbents are in bold.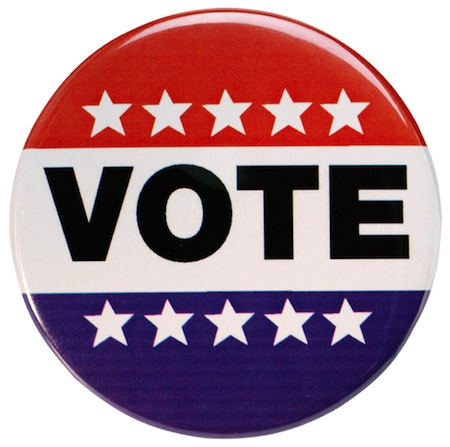 Governor: Cuomo (D) vs Astorino (R) vs Hawkins (Green Party)
Comptroller: DiNapoli (D) vs Antonacci (R)
Atty General: Schneiderman (D) vs Cahill (R)
Supreme Court Justice: Hubert (D) vs Delaney (R)
US Congress: Lowey (D) vs Day (R)
NYS State Senator: Carlucci (D) vs Held (R)
NYS Assembly: Jaffee (D) vs Romanowski (R)
County Court Judge: Thorsen (D) vs Koplen (D)
Nyack Village trustees Don Hammond and Louise Parker are running for re-election unopposed. There are also three statewide initiatives on the ballot.
In the past year there's been lots of talk about the "bloc vote" and how it effects elections in far away East Ramapo and nearby South Nyack. Here's what we can learn from The Bloc: their members actually get out and vote on Election Day. And, apparently, it makes a difference.
In mid-term elections, most people stay home and then complain about how everyone else voted. You could stay home tonight and watch NCIS or The Voice. Or you could go out and vote. (If you have a DVR, you could probably do both) Think about it.