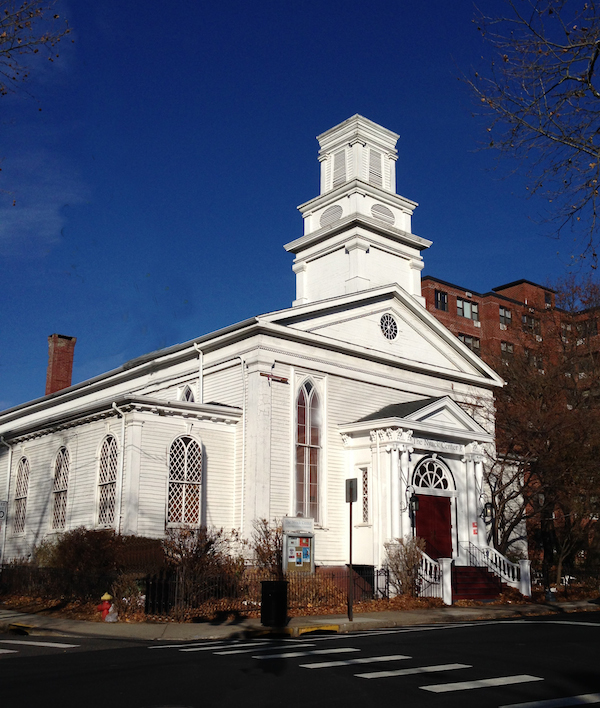 It's been quite a week for The Nyack Center's Kim Cross. Last Saturday, The Nyack Center held its Legacy Gala, an annual fundraiser, where she announced a generous contribution from Herb Kurz, founder of Presidential Life. On Tues night, Cross rallied with other Rockland County non-profits in New City to ask the county legislature to reject the budget proposed by County Executive Ed Day that would slash more than $49,000 in funding from the Nyack Center. On Wednesday, Cross and Kurz were named as the 2014 recipients of FOR's Nyack Area Peace Prize.
The Fellowship of Reconciliation's Nyack Area Peace Prize honors an organization or individual involved in significant peace and justice work in the local community where FOR's national headquarters is located. "Both of these individuals, and their organizations, are inspirational change-makers whose grassroots efforts have inspired countless others,"said FOR's Meredith Nicolich.
"I am humbled to be honored in this way, especially with Herb Kurz, a life long philanthropist and activist," said Cross. "The timing of this award gives me an opportunity to remind everyone about the important work we do at the Nyack Center. I hope people show their support by asking the county legislature to restore the proposed cuts to Nyack Center and other Rockland non profits," she said.
It's a mutual admiration club, too: the Kurz family has made a $25,000 donation matched against any contribution to Nyack Center in the next month. "Herb has also been a supporter of Nyack Center since its inception," added Cross.
Winter Solstice Celebration on Sun Dec 14
The Nyack Area Peace Prize recipients, Kim Cross and Herb Kurz, will be honored at FOR's annual Winter Solstice Celebration on Sun Dec 14 from 1-6p in Upper Nyack.
The community is invited to celebrate the longest night and the returning of the light with a musical feast including Regret the Hour, Lisa Sokolov, Bill Vanaver, Naaz Hosseini & Peter Blum, Steve & Emilia White and Answer the Muse.
FOR's annual Winter Solstice Celebration will be held at Shadowcliff, 521 North Broadway in Nyack. For more information, visit FOR's Facebook page.
Philanthropist Herb Kurz, is the founder of Presidential Life, a life insurance company he ran for 40 years in Nyack before it was acquired and renamed Athene in 2012. Now 94 years old, Kurz has been a life-long progressive supporter of civil liberty activism. Many of Presidential Life's business practices were ahead of their time, setting a precedent for socially responsible action. Kurz was honored by President Bill Clinton at the White House Conference on Corporate Citizenship in 1996. As a philanthropist, Mr. Kurz has supported numerous Rockland County organizations, including Rockland Community College. In addition, he was the key funder of the NYU Tamiment Library's Frederic Ewen Center, named for his uncle, a Brooklyn College professor who was blacklisted during the McCarthy era. Mr. Kurz also endowed a chair in constitutional rights at Brooklyn College, his alma mater. After World War II, in which he served as a navigator aboard B-26 bombers, he founded Veterans Against Discrimination, which became an active element within the radical Civil Rights Congress.
As Executive Director of the Nyack Center for the past 13 years, Kim Cross has created connections across social, cultural and economic boundaries by supporting children, youth, and families through educational and recreational programs. Founded in 1990, the non-profit Nyack Center offers before-school and after-school programs and provides access to computers for students as well as before-school Breakfast Club program which serves 40 kids and and after school program for 85 young people. Late Night Teen Fridays, a substance-free performance program run by and for teenagers, is entering its 10th year of operation. Future plans include building a sound and recording studio on premises, and offering healthy-cooking, music, and painting classes to adults and seniors.
The Fellowship of Reconciliation was founded in 1914 following an unsuccessful ecumenical conference  seeking to prevent World War I. Two of the conference participants, Henry Hodgkin, an English Quaker, and Friedrich Siegmund-Schultze, a German Lutheran, pledged to find a way of working for peace even though their countries were at war. Out of this pledge Christians gathered in Cambridge, England in December 1914 to found the Fellowship of Reconciliation. The U.S. FOR was founded one year later, in November 1915, at a conference in Garden City, Long Island, New York. Today FOR is an interfaith and international movement with branches and affiliated groups in over 50 countries and on every continent. Today the membership of FOR includes Jews, Christians, Buddhists, Muslims, Indigenous religious practitioners, Baha'i, and people of other faith traditions, as well as those with no formal religious affiliation.
Sources: