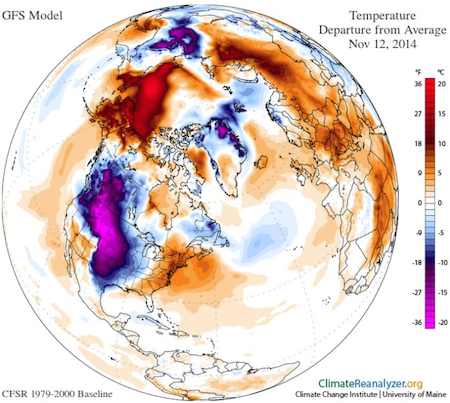 by Dave Zornow
I know what some of you are thinking: Snow, already? November has just barely begun! Wasn't it over 60 degrees yesterday (Yes, it was).
And the more skeptical, politically conspiratorial among you are thinking: can we keep politics out of the weather forecast? When did meteorology develop a left-leaning slant?
Here's the NOAA forecast for Thurs night and Friday in Nyack:
Rain and snow tonight, becoming all snow after 1a with a low around 33. There's an 80% chance of snow, with accumulations of less than a half inch. Friday's high will reach 43 — however, bundle up as the wind chill will make it feel like 25-35 degrees during the day on Friday.
The sudden drop in temps and the possibility of some unseasonal snow tonight can be directly sourced to the left. That is, the upper left of the weather map of North America. Dr Jeff Masters from WeatherUnderground says that Super Typhoon Nuri in the Bering Sea west of Alaska messed with the jet stream, pushing it south, and dragging arctic temperatures with it. The result? Headlines like: "Wyoming Hits -26°F in Arctic Blast; 3 Feet of Snow in Michigan's Upper Peninsula." And now its coming our way. Albeit, a bit mitigated from the blast that froze the midwest earlier this week.
The storm and associated intense cold is being triggered by an usually extreme jet stream pattern, featuring a sharp ridge of high pressure over Alaska and a deep trough of low pressure diving to the south over the Central United States. This extreme jet stream pattern is due, in part, to the influence of Super Typhoon Nuri, which caused a ripple effect on the jet stream after the typhoon became one of the most powerful extratropical storms ever recorded in the waters to the west of Alaska last Saturday. — Jeff Masters, WeatherUnderground.com
What does this have to do with the politics vs science, Republicans vs Democrats tug of war about climate change? What climate change is really about is the notion that we are all connected and events in one part of the world can impact the rest of the planet. A Super Typhoon that hit Alaska almost a week ago will have a dramatic effect on our weather tonight. And although it's certainly true that weather patterns are cyclical, burning coal and releasing greenhouse gases can accelerate patterns which may naturally be taking place.
In some parts of South Florida, storm sewers now overflow into the streets when it's high tide without a drop of rain falling from the sky. Despite the fact it's a Red State Cred, even local GOP electeds in the Sunshine State are all about addressing these serious issues. They may not call it climate change, but they are still calling it a time to take action.
Graphic: World Weather Temps 11/12/2014 ClimateReAnalyzer.org University of Maine