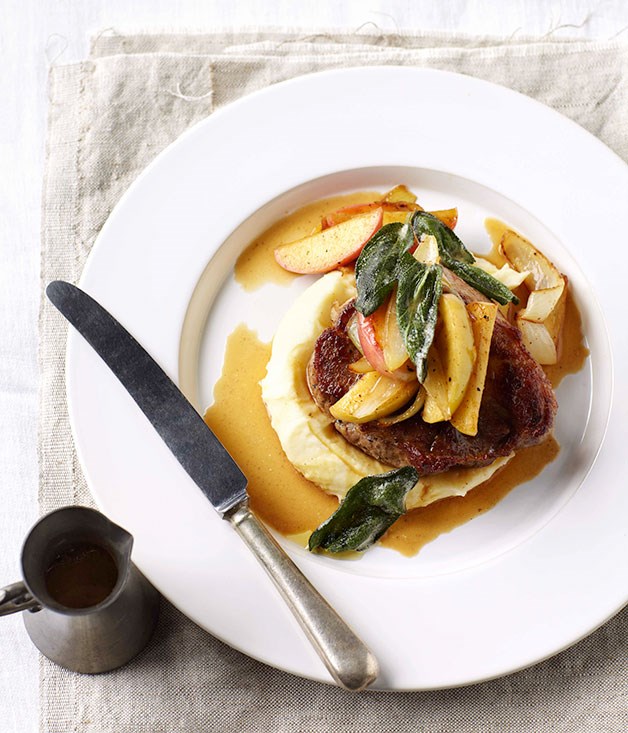 by Ben McCarthy
This weeks recipe is a perfect fall meal, pork chops are roasted with fresh apples and fennel seeds to create, a sweet, savory and delicious dish that draws its flavors from Hudson Valley produce and meat.
The Nyack Farmers Market will have an abundance of apples this time of year and almost any type will work well in this dish. I prefer apples that are slightly tart, when roasted with the pork they will become sweet and tender, the perfect accompaniment to rich and meaty chops.
The most expensive and most frustrating part of this dish is the pork, I for one don't like to eat pork that isn't farm raised and locally grown. As my previous piece notes, I have a couple of reasons for this, but if you're one of those people who could care less about how the animals you eat are raised and slaughtered, than at least consider this- farm raised animals simply taste more delicious.
Pork chops can be bought at the Nyack Farmers Market on Thursdays and Saturdays and will run you more than your average store bought chop but will be far more tender and flavorful.
Again, this is a great meal to serve as a family dinner or when you're having company over and don't want to spend all day and night in the kitchen.
Anyway, on with the recipe which will serves four people generously:
4 pork chops
2 tsp fennel seeds, whole
2 cloves garlic, unpeeled
2 bay leaves (fresh or dried)
2 large or 4 small apples
1 large white onion
3 tblspns olive oil
salt
pepper
green salad or creamed potatoes, to serve alongside chops
Preheat oven to 375 degrees fahrenheit.
Core and then quarter or halve the apples depending on which size you are using. Give the onion the same treatment. Press down firmly on the cloves of garlic with the blade of the knife, just enough to gently crush the cloves. Set aside.
Rub each pork chop liberally with salt, pepper and fennel seed and place in a large cast iron pan (a large baking tray would also work fine). Place the bay leaves, apples, garlic and onion around the pork chops. Drizzle all the ingredients with olive oil and place in oven for approximately 30-40 minutes, or until the pork is cooked through (but still moist) and the apples are tender. Once roasted the onions and apples will become sweet and tart caramelised accompaniments to the pork.
Serve alongside creamy potatoes or a light green salad dressed with a simple apple cider vinaigrette.
Ben McCarthy is a junior at Hunter College studying pre-med and creative writing. He is also the lead guitarist in the alternative rock band Regret the Hour. He loves to cook and try new food and grew up cooking with his mother.
Photo Credit: GourmetTraveller.com.au