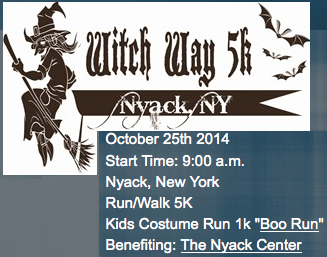 by Melody Partrick
There is nothing better than Halloween in Nyack.  On Oct 25, the village that hosts the largest Halloween parade outside of The Village adds the Witch Way 5K, a costume run that starts at 9a on the same day as the great Nyack Halloween Parade.  All levels and ages of runners are invited to participate and spectators are invited to cheer along the way. The race starts at the upper field of Memorial Park and continues into Upper Nyack with a big finish at the Nyack Farmers Market. You can pre-register at RaceAwesome.com or sign-up on race day.
There is also a 1K fun run and costume parade for smaller folks (ages 1-12) who can get some pre candy eating exercise as well as a chance to show of their Halloween finery.  The kid run, known in race circles as the Boo Run 1K, will start in the Artopee Parking lot and go through the center of town.
Post race, runners and their fans are encouraged to stay in the village, get some cider and donuts at the Farmers Market, do a little shopping and stick around for the 27th Annual Nyack Halloween Parade. Several local businesses will be offering discounts for racers.
All proceeds from the race will benefit one of Nyack's most important community assets, the Nyack Center. This not for profit organization takes care of kids and families in need providing after school programs and teen activities.
Although you may not want to run for office, the Witch Way 5K is the rare chance to run with an office holder. "This is such a fun way to start one of Nyack's busiest days of the year," says Nyack Mayor Jen Laird-White.  "I'm going to be running for our great local cause — in costume!"
Come on out for the Witch Way 5K, October 25 at 9a at Memorial Park in Nyack.  Yup, it's an AWESOME way to start the day.  Costumes optional!
Melody Partrick is the Recreation Director for the Village of Nyack, NY.