Here's a run down of what to do and where to do it this weekend.
Friday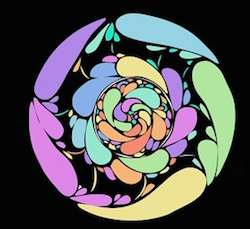 Step right up for a First Friday Magical MYSTICAL Tour of local arts and music presented by the Nyack Art Collective. Mystic Vision, hosted by Maria Luisa Boutique, includes a collaborative art show, a tarot reading, henna tattoos, dream interpretation, and refreshments. There will be live music, crafts and a performance by Walk To The Beat's Anna de la Paz at 7:20p at the Main Street Gazebo. Pick up a guide to all of the local businesses hosting events at the gazebo or online. Free, downtown Nyack, 5-8p.
Jazz vocalist Alicia Crowe performs at Avida Wine Bar beginning at 8p, 159 Main St.
Prohibition River showcases acoustic musicians every Friday night in the Upstairs Lounge. This week's band is The Bendy Effect, featuring rock/funk/punk jazz music. No cover. 9p, 82 Main St.
Saturday
The Corner Frame Shop presents recent works from local watercolorist Beverley Bozarth Colgan. Reception from 6-8p, 40 S. Franklin Ave. in Nyack.
The Nyack Saturday Farmer's Market features local farmers, florists, food and craft artisans. Dean Goodman entertains playing a mix of swing, country, folk and blues from the first half of the 20th century. 8a-1p, Main Street parking lot.
The Zenith Outdoor Group for Girls team up with the Fire Mountain School to help clean up Hudson Avenue in Nyack. This family-friendly outing allows supervised  participants to care for the environment and the community in the company of their peers. Meet at The Art Cafe, 65 S Broadway in Nyack at 10a.
Sunday
The Outside In presents Five Artists/Three Galleries/One Space. Ranging in mediums from photography and silkscreening, to textured painting and sculptures made from found objects, these collections reflect the gallery's unique and diverse character. 2-5p, 249 Ferdon Ave., Piermont.
Join the folks at Bluefield Farm for their Open Farm Day. Enjoy the seasonal flowers, learn how bees get ready for the winter from beekeeper Bill Day (1:30-2:30p), and forage for wild eats with Paul Tappenden (2p). The farm is open for all from 1-4p. 690 Western Highway, Blauvelt.
Building Bridges Concert, a fundraiser for the Rockland Coalition to End the New Jim Crow, will bring together those opposed to contemporary forms of racism. Live music, dance, and poetry. Featured guest speakers include George Garmon and Chief Dwaine Perry . Suggested donation of $20 per person, and $10 for those 14 to 25. 2-4:30p. Fellowship of Reconciliation, 251 N. Broadway.
Hawks Over the Hudson is an annual event to educate and excite visitors about birds of prey. You get a chance to "hawk watch" and chat with presenters from the Delaware Valley Raptor Center and the Nature Program Cooperative. Two live demonstrations are held at 1 and 2:30p. 12-4p, at the State Line Lookout on the Palisades Northbound PIP at Exit 3 in Alpine, NJ.
Next Week
The Legal Aid Society of Rockland County, which offers free legal representation in civil cases for those who can't afford it, hosts its annual gala on Tuesday, Oct 7.  6-10p at The View on the Hudson, 101 Shad Row, Piermont.
Rivertown Film presents Obvious Child, a comedy about a 28-year-old stand-up comedian facing an unwanted pregnancy. Wednesday, Oct 8, at 8p, at Nyack Center, 58 Depew Ave.
Nyack Village Theatre shows Alfred Hitchcock Presents Three One-Acts directed by Richard Quinn. Opening night is Thursday, Oct 9, at 8p, at Nyack Village Theatre, 94 Main St.
The Rockland County Jazz & Blues Society opens its Carnegie Concert Jazz Series with a performance led by world class alto saxophonist, Lee Konitz. He's backed by Cameron Brown on bass, George Schuller on drums, Richard Sussman on piano. Friday, Oct 10, at 7:30p, at The Nyack Library, 59 S. Broadway.