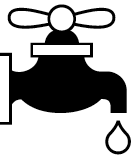 Nyack Water Dept customers may see a temporary reduction in pressure and some discolored water during the next two  weeks during the village's annual water main flush.
Here's the schedule for this week's maintenace of the water system:
West Nyack and Central Nyack – Mon-Wed, Oct 20-23,
Nyack College Area of South Nyack – Thurs Oct 23.
Nyack and the rest of South Nyack will have their water mains flushed next week,  Mon-Thurs Oct 27-30, 2014.
Flushing will take place between 9p and 6a.
Source: Nyack-NY.gov
See also: Nyack Sketch Log: Nyack Water Department, 2/28/2012