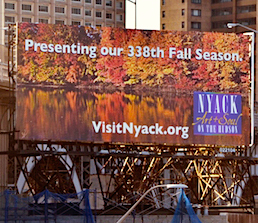 by Dave Zornow
Nyack is a one of a kind name that is getting big exposure online, in movie theaters, on FM radio, at train stations as well as at one of the most prominent billboard locations in New York City.
The Nyack Marketing Association is building on its first major campaign last year with a $51,000 campaign in 2014 designed to reach holiday shoppers in North Jersey, Westchester and New York City. "By using targeted media like Google keyword search advertising, Pandora and WNYC.org audio streams, we can make the most of our limited budget while raising consumers' awareness of the Nyack brand and the village as a holiday shopping destination," says Peter Saluk, president of the Nyack-based advertising agency, Saluk Creative. Nyack Marketing Association Marketing Director Meg Mayo and Saluk created the village's first fully integrated multi-media campaign for the 2014 holiday shopping season. The plan will include signage at Metro North stations, :30 spots on The Peak (WXPK-FM), Google search advertising, online pre-roll video, Facebook ads, Pandora radio, rack cards at tourism locations…and one really impressive billboard.
"We were very fortunate to get a very visible, very desirable billboard above a very, very busy highway," says Mayo. Beginning on Oct 1, millions of motorists — sitting in traffic on New York's West Side Highway near 134th St — will see a billboard on the east side of the highway featuring the "Nyack Art + Soul" logo backed by a gorgeous fall foliage photo. The caption reads, "Presenting our 338th Fall Season." The goal of the billboard as to raise awareness of the village and drive traffic to VisitNyack.org.
"While I've worked on big brands like Ford, Lincoln, and Ann Taylor, seeing the Nyack campaign come to life and grow has been one of the most rewarding highlights of my career," says Saluk. "It's one of those times when the brand over-delivers on its promise. The Village of Nyack is just that good, and it's been a sincere pleasure helping spread the word about Nyack," he says.
Movie goers across the country are also getting exposure to the Nyack name. Coincidental with the timing of the holiday advertising effort is the release of "The Skeleton Twins," starring Saturday Night Live alums Kristen Wiig and Bill Hader. The movie, which is set in Nyack, receives over 48,000 hits on a Google Search of "Skeleton Twins" and Nyack. It's been screened in 461 theaters and has earned $4.2 million at the box office since its release on September 12. According to Google, there have been over 18,000 reviews written about the movie containing the word "Nyack."
The billboard features photography by Dr. Arnold Roufa, a retired physician and professional photographer who lives in Nyack. He says it was a thrill to see his work featured against the skyline on the west side of Manhattan. "I want to thank the Nyack Marketing Association for giving my photo the opportunity to be seen by millions of people," he says.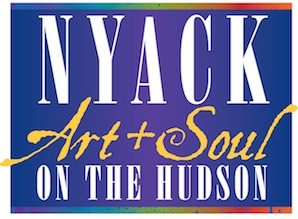 The Nyack Marketing Association, formed in 2012, is funded by local businesses that purchase street banners attached to light posts on Main Street and Broadway in the Village of Nyack. Additional support comes from the Nyack Chamber of Commerce, ACADA, Nyack Hospital, the Palisades Center and the Rockland County Office of Economic Development.