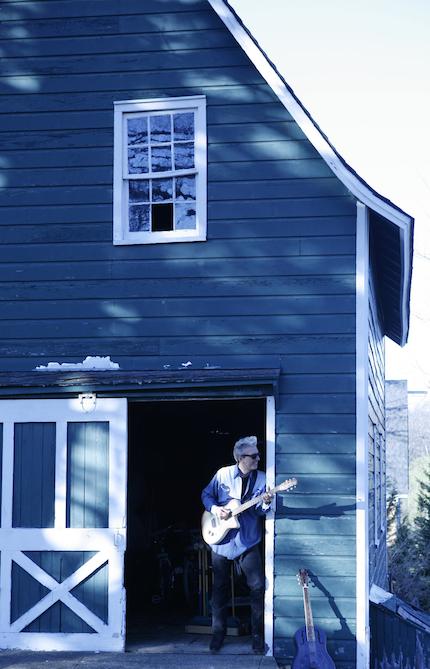 For over a century, our region has been home to extraordinary artists. Local Arts Index highlights the work of individuals who continue our community's rich creative legacy.
Meet Billy Roues.
How Did You Become An Artist?
I was always drawn to music, particularly rock' n'roll. As a child in the 50's I remember my mom watched American Bandstand as she ironed clothes in the afternoon. Music was everywhere. I saw Chuck Berry on TV playing guitar and singing while spinning on the ground and was blown away. Even earlier I remember my parents listened to records by Louis Prima, Benny Goodman and others as they and their friends danced in the living room to the jump blues and swing.
My mom played the piano and in the 60's always had a bunch of 45's my brother Steven and I would listen to including Ray Charles, Gene Vincent and Duane Eddy. Steven and I also listened to an a capella group that rehearsed on the street corner in Bensonhurst, Brooklyn. We moved out of Brooklyn to Stroudsburg, PA (about as close to Mayberry as you could get at that time north of the Mason-Dixon) when I was about seven and would often stay with my grandparents. From our bedroom window on the fifth floor we watched these guys singing and people passing by calling out requests.
The first two records I bought were "Lovers Who Wander" b/w "I Was Born To Cry" by Dion and "Quarter To Three" b/w "Time Ol' Story" by Gary 'US' Bonds. We got deeper into the music of the day. We'd learn those songs and they seeped into our soul.
F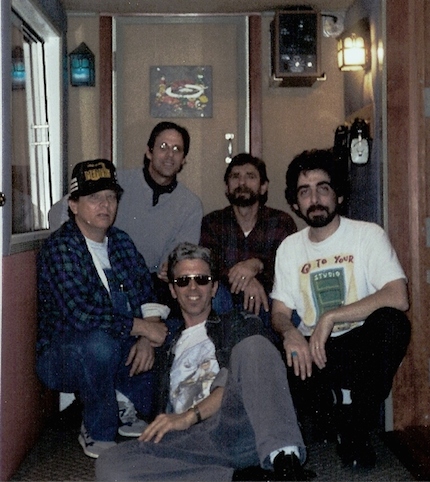 rom early on Steven and I would make up songs and pretend to be rock' n'roll stars, our parents always had us perform for friends and family. My mom had a Stella acoustic guitar I would fool around on, but never did much with it until my first guitar teacher dropped me, telling my parents that I would never be a guitarist—at age 12 that burned me up. I started teaching myself guitar chords from diagrams my brother brought home from his guitar teacher, and immediately wrote a song. It was in me and it had to come out. This was when we moved from Stroudsburg to Spring Valley, up on the hill.
The Beatles had just come out, and man I was on fire with music 24/7. All those British Invasion bands were knockin' me out. The Rolling Stones especially. After seeing them on Hollywood Palace (or maybe it was Dean Martin's show) I got my first electric guitar—a bouzouki model Danelectro 12
string. Steven started playing harmonica, and we started a band. Back then nobody taught you how to be in a band. It was living rooms, basements, garages and anywhere else you could squeeze in everyone and their instruments. It was all makeshift. We invented our own way of being a band—gleaned from what we thought 'those guys,' our musical heroes, did.
What Kind Of Art Do You Make?
As the 60's rolled on, we rolled with them, exploring the music our favorite artists said influenced them. That's what got us digging into the roots. Eric Clapton spoke of Robert Johnson and the Rolling Stones played a lot of Chess Blues and soul influenced rock and everyone was into Chuck Berry, Bo Diddley, Little Richard and Jerry Lee Lewis, not to mention all the rockabilly, Elvis, Buddy Holly, Gene Vincent and Eddie Cochrane. Bob Dylan changed a lot of things turning us on to Woodie Guthrie, Leadbelly, Sonny Terry and Brownie McGhee and the Harry Smith collection of old time music.
My dad bought me a brand new Martin 00-18 acoustic when I was 16. The folk movement got us digging deeper into the roots of the 50's and exploring the music of Hank Williams, the Jimmy Rodgers and Carter Family along with the early Delta Blues and the various strains of Blues from different regions. We started distinguishing the stylistic differences of all these artists, field recordings, ethnic recordings, just overwhelmed by the length and breadth of this history.
At that time we'd go down to Greenwich Village and play the Gaslight, Gerde's Folk City, Café Wha, the Feenjan, the Bottom Line, the Nite Owl, Columbia University Basement Coffee House and a little known place called the Four Winds. We had older friends who were beatniks, artists, photographers, writers and musicians. We sometimes played parties in their loft on 13th Street.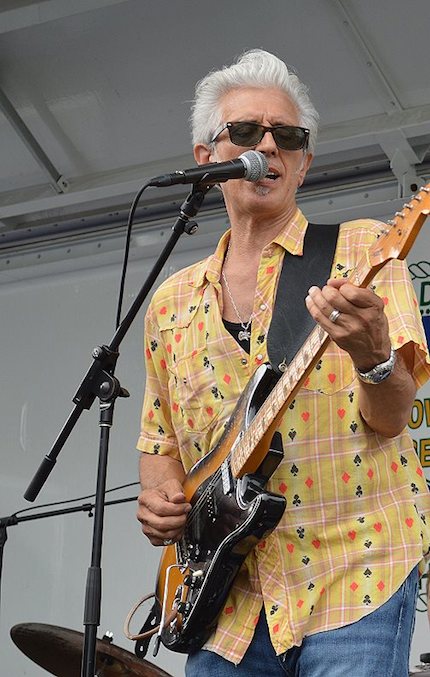 I've gone through quarterly periods trying to mimic different genres and pull the things I heard into my playing and especially into my songwriting. For a month or two I'd slow down recordings of Doc Watson so I could learn Black Mountain Rag, the next month I'd be taking Coltrane sax licks and putting them into rock solos and trying to figure out what the hell Django Reinhardt was doing. I took Ragtime guitar lessons from a guy named Eric Schoenberg who was a Rounder Records artist at the time and usually played in several bands. I'd rent myself out to play guitar in other bands that also covered my originals. That was the early 70's.
I've been writing and recording and performing songs for decades, have done numerous albums and videos and with my partners, Steven Roues and Gary Solomon and have recorded several albums used extensively for TV, movies, video games and commercials. You may have heard our music on anything from Star Trek, Second Hand Lions, In His Life: the John Lennon Story, South Park, Spongebob and Chappelle Show to Fallout Vegas and numerous films, foreign and domestic like Italian Movie (w/ James Gandolfini) and Fuori Del Mondo and New In Town (Rene Zellweger and Harry Connick Jr.).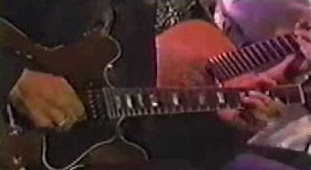 Some highlights have been working in the studio with legendary soul songwriter Dan Penn and incredible keyboard legend Spooner Oldham, Lonnie Mack, Johnny Johnson (Chuck Berry's original pianist and bandleader), Lenny Kaye (Patti Smith Group) and MC5 guitarist Wayne Kramer, Ben Keith (Neil Young), fiddle legend Vassar Clemens and sharing the stage with B.B. King, Bo Diddley, Pete Seeger, and many other heroes and legends has made this journeyman's travels a pure joy.
What's Your Muse?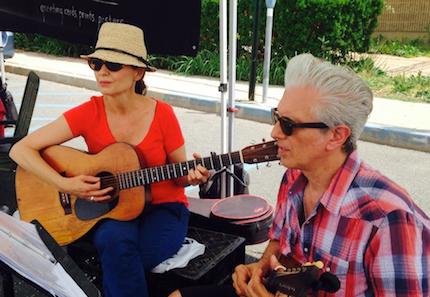 I think music itself is my muse and the need to touch the hearts of people, shake them up, get them thinking, dancing, laughing, crying, in short to inspire. Dylan said if you can't be inspired by others you'll never inspire anyone else. I think this is the secret to the way I teach. I was never hot to be a teacher but I fell into it to make some money while plying my craft, playing gigs and so on. I found it to be immensely stressful and unrewarding trying to impress other musicians. I liked to reach people who loved what they felt when I played the guitar not how many notes I could play. I do like to wail out but it's always within my own wheelhouse and part of my wheelhouse is to take chances, go out on a limb and see if I can get back without going over the cliff. My wife, Susan, always inspires me. I look for her in the crowd and want to play the things I know she loves and that will excite her. She's got a good handle on what is moving the crowd as well. She and I have been recording an album of old time music with our Roues Family Band and just recently had her sister Tara (Donna the Buffalo) put fiddle, accordion and rub board trax at Gary Solomon's recording studio in Stony Point.
What's Next?
I'll keep playing with my bands. The UpSouth Twister, my Cajun-Zydeco group will be at the Turning Point in Piermont Oct 4, Finn and the Sharks have a rockabilly dance party show at Union Arts in Sparkill on November 8 that is the continuation of our History of Blues to Rock series and our annual Christmas show on Dec 20 also at Turning Point, The Roues Brothers have a couple of shows in NYC in October and November and a date with Big Jim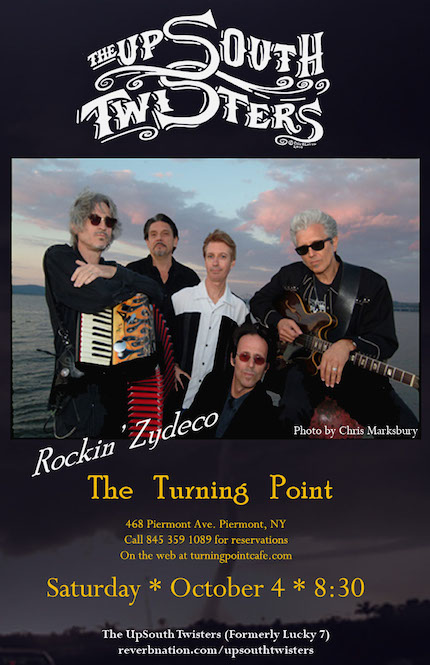 Wheeler's Band In Black, our new Johnny Cash Tribute. Beyond that, I'm in my 10th year teaching Songwriting and Guitar at Rockland Country Day School (and privately). In the summer I will direct, for the 9th year in a row, the first ever rock camp for teens in Rockland County also on the RCDS campus.
The label my brother and I started, UpSouth Recordings, will hopefully release some new and/or archival material and my students at RCDS are recording a special project based around using Beatles titles for their own original songs at Greg Talenfeld's OK Studio on New Street in Nyack. This is the second year we will do this.
All of my bands are available for house concerts, parties, dances, shows and I am available for private lessons. Call me at 845-596-1512.
The UpSouth Twisters will perform on Saturday, October 4 at 8:30p at The Turning Point, 468 Piermont Avenue, Piermont, NY. Call 845 359-1089 for reservations.
Local Arts Index is sponsored by Maria Luisa, 77 South Broadway and ML by Maria Luisa, 75 South Broadway, Nyack, NY