Nyack, Oct 6 — This machine of steel can't leap tall buildings in a single bound — but it could probably lift a few small buildings off their foundations.
The super crane redubbed "I Lift NY" arrived at the Tappan Zee Bridge construction site on the Hudson River on Monday. Tall as the Statue of Liberty the crane can lift as much as 1,900 tons — the equivalent of 12 Statue of Liberties. The 328 foot lifting arm will be used to install large sections of the new bridge and dismantle the existing Tappan Zee Bridge once the new north span is completed in 2017.
Formerly known as the Left Coast Lifter, the crane spent the first nine months of the year being refitted in Jersey City after traveling 6,000 miles from San Francisco Bay through the Panama Canal and up the East Coast.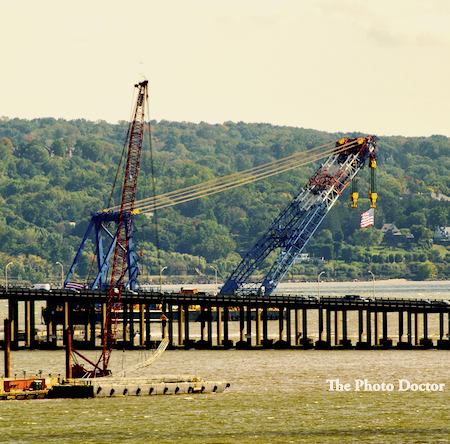 Photo Credits: Slide Show by ©2014 Ray Wright; I Lift NY Crane behind the Tappan Zee Bridge by ©2014 Arnold Roufa, The Photo Doctor
See also: I LIFT NY SUPER CRANE at NewNYBridge.com