The scheduled activities for Nyack's annual Halloween Parade on Sat at 5:30p suggests it must be the Year of The Zombie.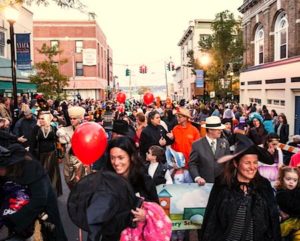 Nyack's first-ever Zombie Apocalypse crawl, led by local author Linda Zimmerman, will kick off right before the parade begins. All zombies should meet in Memorial Park in Nyack at 4:30p. Just to prove that zombies cannot live on brains alone, participants are encouraged to bring canned nonperishable food goods as a donation to People to People before crawling at 5p just prior to the full parade at 5:30p. Wanna walk like a zombie in full public view? Visit HvZombie.com for more details.
The 27th annual Nyack Halloween Parade is the largest parade of its kind outside New York City. Organized by the Nyack Chamber of commerce, over 25,000 spectators are expected to line the streets of Main and Broadway.
Marchers and floats will assemble at 4p in Memorial Park at the corner of Depew and Piermont Streets in downtown Nyack. All are welcome to march and to register for prizes. The winner of this year's Best Float competition will take home a $750 cash prize. Floats winning second and third place will receive $500 and $250 respectively. Prizes for costumes will be awarded in seven categories with awards ranging from $25 to $200. Registration is required to be eligible for prizes.
OK, it's not just about the zombies. There's something in it for runners and children of all ages, too. The Village of Nyack will host its first Halloween costume run — the "Witch Way 5K" — starting at 9a in Memorial Park. A kids' run/costume parade — the "Boo Run 1K" — will begin at 9:45am. Runners can register at www.RaceAwesome.com.
The Halloween Game Plan
8a-1p: Nyack Farmers' Market, Main Street Parking Lot
9a: Witch Way 5K costume run
9:45a: Boo Run 1K — Kids' costume run
3-5p: Live music on Main Street Cult of Aphrodite, The Year Off
4p: Marchers and floats assemble for parade and prize registration in Memorial Park
4:30p: Zombies assemble for Zombie Apocalypse crawl
5p: Zombie crawl begins
5:30p: Full parade steps off
6:30p: Float and costume award ceremony begins, Main Street lot
6:30p: Monster Mash party for families at Nyack Center
7p: Music and dancing with Frankie D and The Boys, Main Street lot
7p: Parade after-parties at Casa del Sol (award sponsor)
Additional parade participants include:
Therese Shorn's "Festival of Ghouls" — 15-foot tall puppets worked by Nyack's own Amazing Grace CIRCUS! performers — plus unicyclists, jugglers and other Circus! talent. The parade will also include the Hudson Vagabond Puppets.
Three of Rockland County's top bands — the Nyack High School, Clarkstown South High School and the Clarkstown North High School marching bands — will march in the parade.
The Suburbia Roller Derby of Westchester and the Hudson Valley Harley Riders will roll down Main Street as part of the procession.
Local fire departments will also march and roll their fire trucks down the parade route.
Face painting for the kids will be offered by Jamie's Faces.
If you are worried about grabbing a good spot along the parade route, here's motivation to arrive early: there will be  live music in the municipal parking lot on Main Street and Artopee Way from 3-5p featuring Cult of Aphrodite and The Year Off, sponsored by provided by Anjel Blue Rehearsal Studios. The evening continues post-parade with a gala awards ceremony and music with Frankie D and The Boys.
U.S. Congresswoman Nita Lowey and the Hon. Harriet Cornell will serve as Parade Grand Marshalls.
Immediately following the parade, Halloween revelers can go to the Nyack Center's eighth annual "Monster Mash" party featuring live music, dancing, dinner buffet – and lots of spooky family fun. The party goes from 6:30p-9p. The Nyack Center is located at Depew and South Broadway in Nyack.
Photo credit: ©2013 Doro Erichsen