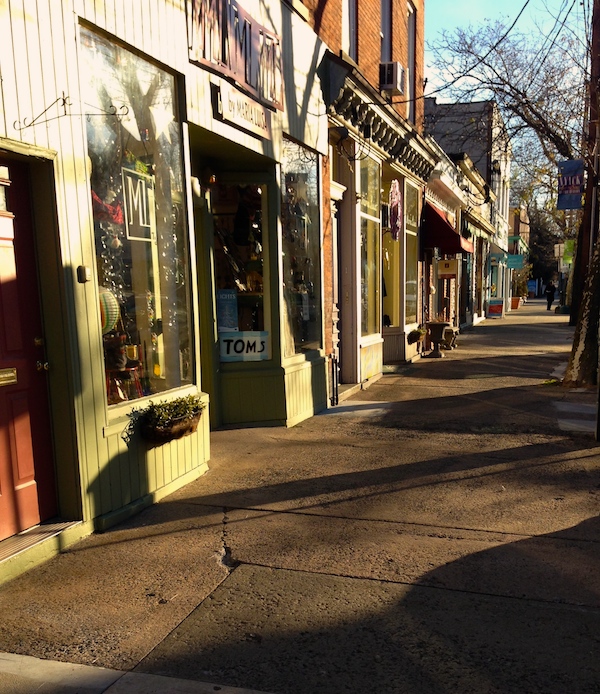 by Dave Zornow
Two years ago Nyack's Main Street business district got a much needed facelift, including new lights, benches, crosswalks and sidewalks. In 2013, it got a free paint job courtesy of Benjamin Moore's Main Street Matters campaign. However, Broadway businesses — who felt their neighborhood needed as much TLC as Main Street — were left out of both projects.
On Monday, Governor Andrew Cuomo announced $70 million in funding for 68 pedestrian and bicycle projects across New York State — including $1.48 million to fund streetscape improvements on North and South Broadway running from the border of Upper Nyack to South Nyack.
"This is great news for South Broadway, as we've been on the sidelines for some time," says Maria Luisa Whittingham, owner of Maria Luisa Boutique and ML by Maria Luisa. "These improvements will help create a more visually unified downtown, making a seamless connection between Broadway and Main Street, which has already benefited from its own streetscape improvements," she says.
New York's Transportation Alternatives program (TAP) will use Federal Highway administration dollars to construct 8000 feet of sidewalk running the whole length of Broadway in the village. Additional improvements include four bus shelters, concrete sidewalks, curbing, handicapped ramps to the walks, pavers to create delineated sidewalks, benches, street trees and bike racks. A 3200 foot bike lane from Church Street down to the southern boundary of the Village of Nyack at Cedar Hill will be created with bike lane markings. The bike lane will connect with the Greenway Bike Trail that currently runs through the Nyack river villages. The project is expected to take about four years to complete.
"We say 'thank you' to Governor Andrew Cuomo and NYS Secretary of Transportation Joan McDonald for their support to improve multi-modal options for getting around our village," said Nyack Mayor Jen Laird White. "This project will make our community more walkable and safer through the use of improved lighting, revamped sidewalks and ADA compliant intersections."
"Congrats to the Village of Nyack for its receipt of a highly competitive grant award to improve the pedestrian and bus transit environment around Broadway," says Veronica Vanterpool, executive director, Tri-State Transportation Campaign. "With these investments, the Village of Nyack continues to enhance its desirability as a community to live and visit. More sidewalks, crosswalks, bike lanes, lighting, and bus shelters are the equivalent of a huge welcome sign at the entrance of the village encouraging people to visit—without having to rely on a car. With the launch of a new bus system in 2018 serving Nyack, and the larger I-287/Tappan Zee Bridge corridor, we hope such vision takes root in neighboring Rockland communities," she said.
Part of the grant includes funding a new bike lane on Broadway, Church Street and Franklin. On a busy summer weekend, Nyack can get as many as 5500 cyclists ride to Nyack from NYC and North Jersey — a number that is expected to increase when the new Tappan Zee Bridge pedestrian/bicycle "shared use path" (SUP) is completed.  The new pedestrian and bicycle path, connecting South Nyack to Tarrytown across the Hudson, is expected to be a popular tourism destination when the new TZB is finished in 2018. If the TZB SUP proves to be 1/10 as successful as the Walkway Over The Hudson which connects Dutchess and Ulster Counties near Poughkeepsie NY, Nyack and Tarrytown may see an increase of 50,000 new tourist visits each year.
In 2012, Nyack completed an eight year project to upgrade Main Street. The approximately $1.4 million effort was principally funded by HUD Community Development Block Grants (CDBG). In 2013, the village was chosen by Benjamin Moore as a winner of their Main Street Matters promotion to get a free makeover for downtown. However, both of these efforts excluded the South Broadway business district, which the TAP funds will now be used to improve.
Laird White credits Congresswoman Nita Lowey with championing this grant on behalf of the village.
"Making our communities more walkable, bicycle-friendly and welcoming will ensure Rockland residents can enjoy local attractions and tourists can experience the county's natural beauty," says Lowey. "I have been working hard to secure more federal infrastructure investments that make it easier and safer for New Yorkers to travel throughout the Lower Hudson Valley and to fix our transportation infrastructure and improve our public spaces," she said.
See also:
Map courtesy of MapMyRide.com